PHOTOS: Dad And Eight-Year-Old Son Make Food Puns Shaped Like States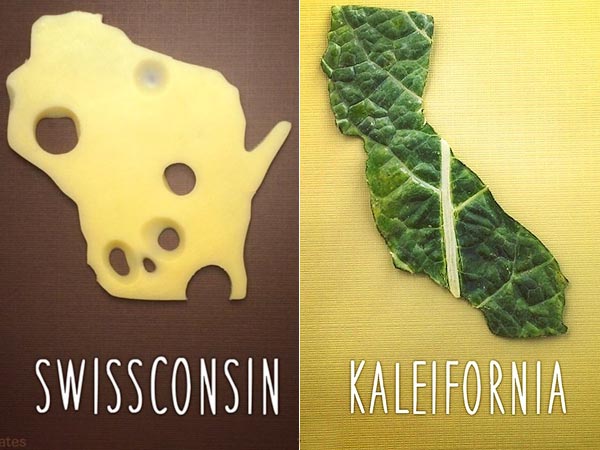 Courtesy Foodiggity.com
Chris Durso's latest project, The Foodnited States of America, has become a social-media sensation and he has an eight-year-old to thank.

Durso, who runs the site Foodiggity.com, told PEOPLE that the idea for these whimsical, pun-driven photos came about during a chat with his son, Cameron. "He's always trying to come up with ideas for me. One day he asked, 'Dad, what if you did states shaped like food?' This has been done quite a bit already, so it wasn't until he added, '…but what if they had funny names like "New Pork?' Then I knew we were onto something," he says.
The graphic artist and culinary school grad posted his series on Instagram under the hashtag #foodnitedstates. Although he says he has most states already, ahem, mapped out, he takes suggestions from fans.
We were curious about his creative process: How exactly do these hysterical pictures come to life? Like any proper wordsmith, Durso says he tests state names by saying them aloud. Some, like "Kaleifornia" or "Swissconsin," seem to be tailor made for the place they represent. "Most just sort of flow. You say a state, and an appropriate pun appears fairly quickly. If the states and food are already synonymous with each other it's a bonus," he says.
The artist says that above all, it's most important that his meticulously crafted images have a compelling visual element. "I have to take into account what's possible as far as execution, as all the states in the project are handmade and styled. Also what will work aesthetically, which to me is most important," he says.
We're going to have a hard time erasing some of these puns from our heads on our next road trip (we're looking at you, New Jerky).
—Lexi Dwyer