Exclusive: See Cheryl Hines and Robert F. Kennedy Jr.'s Pale Pink Wedding Cake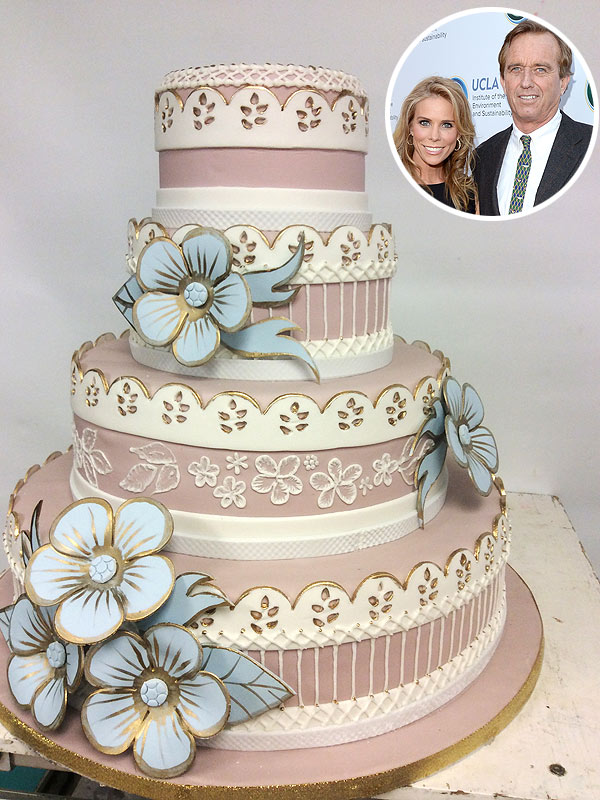 Courtesy of Montilios Bakery
Cheryl Hines and Robert F. Kennedy Jr. made family tradition a big part of their wedding, right down to the cake.

For their reception, which took place on Saturday at the Kennedy compound in Hyannisport, Massachusetts, the couple chose a 4-tiered cake from Montilio's Baking Company of Boston.
"We've done a lot of Kennedy weddings throughout the years," says owner George Montilio, who worked with the bride over the two weeks leading up to the ceremony to create the perfect design.
"We went back and forth over the phone about [potential] styles. Cheryl sent me some nice pictures, and we emailed back and forth about different wedding cake designs. It was a collaboration."
The result: A gorgeous confectionery creation complete with the Hines' choice of pale pink accents and hand-painted blue flowers etched in gold. Taking into account the notoriously large Kennedy clan, the cake also feeds "around 250 people."
The "presidential white" with white buttercream cake even added a touch of personal history – for both the groom and the baker. "We've done a lot of inaugural cakes in our history and we have this white cake that is very famous in our business and we call it presidential white," says Montilio of his family's 65-year cake company. "My father did John F. Kennedy's inaugural cake."
Talk about a personal touch!
For more details on the cake and photos of the wedding, pick up the new issue of PEOPLE, on newsstands Friday.

—Michelle Ward