Hungry Girl: No-Guilt Snacks & Meals Inspired by Celebrity Wedding Menus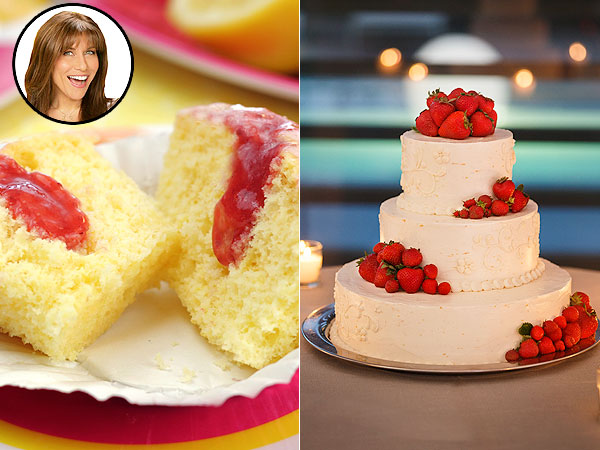 Left: Courtesy Hungry Girl; Right: Brian Dorsey
Lisa Lillien is the author of the popular Hungry Girl website and email newsletter, featuring smart, funny advice on guilt-free eating. She is also the author of nine books, six of which debuted at number one on the New York Times Best Sellers list. Read her PEOPLE.com blog every Monday for slimmed-down celebrity recipes and more.

Okay, everyone indulges in carbs and cake at a wedding — especially a celeb wedding, where the food is as A-list as the guests. But you can't eat like it's a party every day… or can you?
Inspired by the best-looking eats at recent superstar wedding extravaganzas, I've put together low-cal alternatives with the same amazing flavors.
Love is in the air!
The No-Guilt Dessert: Strawberry Lemonade Cupcakes
Inspired By: Katie Couric and John Molner's Lemon-Strawberry Cake
Couric and her new hubby had a three-tier lemon-strawberry cake to celebrate their nuptials. Yum! That's a flavor combo I love… so of course I have a great recipe for Strawberry Lemonade Cupcakes that you should make ASAP. Enjoy a gooey strawberry center and a creamy strawberry frosting for just 140 calories and 3g fat!
The No-Guilt Snack: Homemade Trail Mix
Inspired By: Stephanie Izard and Gary Valentine's Chocolate Cheez-Its Cake
At the wedding of Top Chef winner Izard and her new husband, Gary, the dessert spread got a little wacky. One layer of their cake featured chocolate ganache, peanut butter and — wait for it — chocolate-covered Cheez-Its! That combination sounds so crazy it might just work. Make a snack mix using mostly 94% fat-free popcorn with sprinkles of reduced-fat Cheez-Its and chocolatey-PB cereal, like Reese's Puffs. Then hit the couch and cue up Top Chef!
The No-Guilt Meal: Kashi Three Cheese Ravioli Steam Meal for 2
Inspired By: Kim Kardashian and Kanye West's Italian Feast
And of course, there was the Kimye wedding. The duo had a full-on Italian feast, starting with mezzelune pasta stuffed with ricotta cheese. To recreate that dish without ruining your diet: Heat up a Kashi Three Cheese Ravioli Steam Meal for 2, split it with your sweetie, and snap a selfie together while you dine!
The No-Guilt Fast-Food: Applebee's Roma Pepper Steak
Inspired By: Jenny McCarthy and Donnie Wahlberg's Wedding at Applebee's?
It's probably all in jest, but after McCarthy joked about marrying fiancé Donnie Wahlberg at an Applebee's, the restaurant chain's social media department jumped right in to keep the fun going. If you hit the Bee's yourself, grab something off the health-conscious "Have It All" menu. The Roma Pepper Steak comes with potatoes and a mushroom stuffed with artichokes and cheese for just 510 calories!
'Til next time… Chew the right thing!