Alex Guarnaschelli: My 3 Favorite Summer Tomato Recipes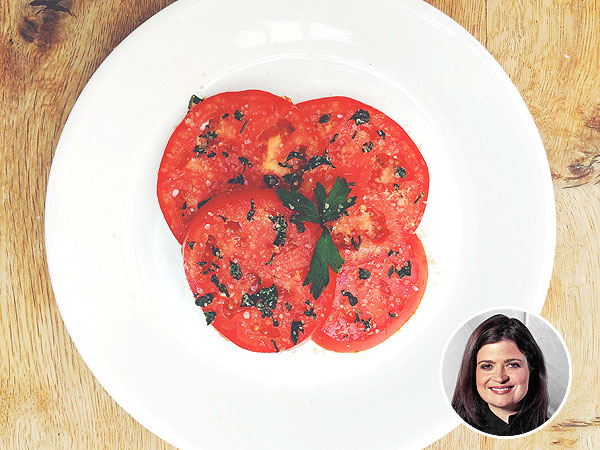 Courtesy Alex Guarnaschelli
Alex Guarnaschelli is an Iron Chef, Food Network celebrity chef, author of Old-School Comfort Food and the executive chef at New York City's Butter restaurants. Read her PEOPLE.com blog every Tuesday to get her professional cooking tips, family-favorite recipes and personal stories of working in front of the camera and behind the kitchen doors. Follow her on Twitter at @guarnaschelli.
I feel like there is some unspoken rule that as soon as the first warm days appear, people think it's time to break out the tomatoes and basil. I think the best tomatoes come much later in the summer. Actually, it's prime tomato season right now! In years past, I have even served a tomato salad at Butter as late as Halloween. I love cherry tomatoes the most — the little "sungold" varieties are my favorites.
How do you choose the best tomatoes? I look for unblemished ones without any soft spots. I also find tasting one is the best way to know. It's a little difficult to give a whole basket of cherry tomatoes the squeeze test! But it's not always how tomatoes look. I also smell them to check for that "green" aroma tomatoes have. It's almost as if you can still smell the plant they were picked from.
Seasoning tomatoes, big or small, makes all the difference. Salt, pepper, and maybe a pinch of sweetness are all it takes. I don't add a lot of flavors to raw tomatoes for salad. However, ginger is one of my favorite ingredients to combine with them because the heat and zing of fresh ginger evokes the natural sweetness of the fruit without obscuring them.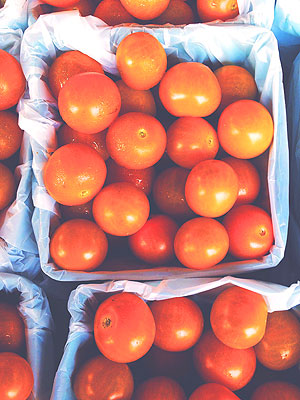 Courtesy Alex Guarnaschelli
Tomato Salad with Fresh Ginger
Makes 2 servings
12 ounces cherry tomatoes (preferably sungold), washed and stemmed
Kosher salt
1 tbsp. honey
2 sprigs fresh thyme, stemmed
1½ tsp. freshly grated ginger
½ tsp. freshly ground black pepper
3 tbsp. extra virgin olive oil
1 tbsp. red wine vinegar
The juice from 1 lemon
1. Preheat the oven to 350F.
2. Prepare the tomatoes: Combine the tomatoes, a pinch of salt, honey and fresh thyme in a bowl and toss to blend. Arrange them on a single layer on a baking sheet and place in the oven to cook. Roast for only 5 to 8 minutes. Remove the tray from the oven and transfer them to another tray to cool slightly.
3. In a small bowl, combine the fresh ginger, black pepper, olive oil, red wine vinegar and lemon juice. Toss to blend. Toss the tomatoes in the dressing. Serve immediately.
I don't always make a salad with dressing. Sometimes I eat raw tomatoes as a side dish with some grilled meat or roasted fish. For that, instead of making a vinaigrette, I like to make a small batch of seasoning salt. I simply slice the tomatoes in half horizontally, arrange in a single layer on a flat surface, and sprinkle each piece liberally with the seasoning salt. One of my faves:
Fun Seasoning Salt
1 scant tbsp. Maldon salt or other coarse sea salt
6-7 light "grates" lemon zest
1 tbsp. chopped parsley
½ tsp. smoked paprika
1. Combine the ingredients in a bowl and mix together with your hands to fully integrate the flavors. Store in an airtight container.
I also love the simplicity of a perfectly ripe summer tomato with some sharp cheddar on a toasted English muffin. I used to spend summers with my great-aunt Aggie in Newton, Massachusetts. She always made these little sandwiches for us as a snack!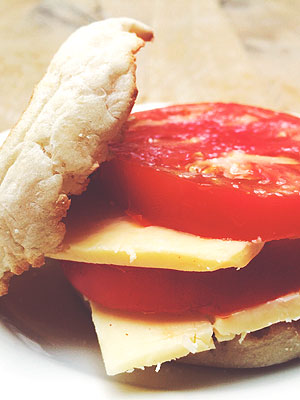 Courtesy Alex Guarnaschelli
Tomato Slices on an English Muffin with Cheddar
Makes 1 sandwich
1 Thomas' English muffin, split open
3 (⅜ inch-thick) slices tomato
Kosher salt and cracked black pepper
Pinch of sugar
1 ½ ounces extra-sharp cheddar; cut into 4 or 5 slices
1. Toast the English muffin until those nooks and crannies are deeply browned.
2. Season the tomato slices with salt, pepper and sugar.
3. Layer the tomatoes, one overlapping the other, on top of the bottom half of the muffin. Top with the cheddar. Put the muffin top over it and press down until some of the juices leaks out of the tomatoes. Close your eyes. Pretend you're eight years old. Enjoy!