Alie & Georgia: Don't Be Intimidated by Elderflower Liqueur — Here's How to Use It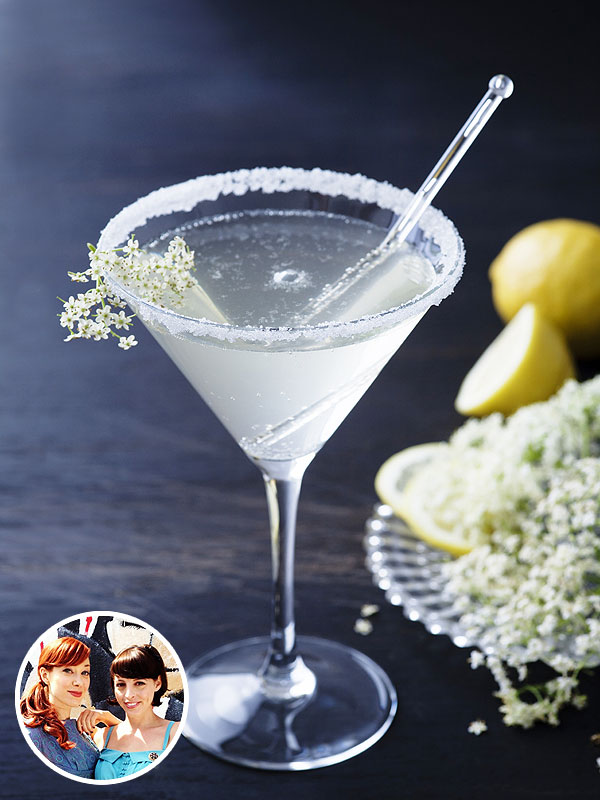 Getty; Courtesy Alie & Georgia
Alie Ward and Georgia Hardstark, a.k.a. Alie & Georgia, host Cooking Channel food-travel series Tripping Out with Alie & Georgia. Visit PEOPLE.com every Thursday for their playful spins on celebrity recipes, cocktails, entertaining ideas—and, of course, lots of laughs!

Making cocktails at home can be intimidating when your go-to bar order is a glass of vodka flavored with anything to make it not taste like vodka. Which makes all those pretty liqueurs at the store the equivalent of staring at a chalkboard covered in string theory equations (assuming you're not a string theorist, that is).
We're here to help you get past your fear of boozy bottles of syrupy liqueur, by teaching you what to do with one that's basically a beautiful bottle of magical unicorn tears, aka elderflower liqueur. Just an ounce or two of this sweet, floral liqueur boosts your bland at-home cocktails and transforms them into sophisticated, tasty libations, just like you'd get in a fancy cocktail bar.
And if you don't feel like shelling out for the liqueur, Ikea also carries a non-alcoholic elderflower syrup that can you can use instead. It's also great for making mocktails!
Elderflower Sage Cocktail
Makes 1 cocktail
2 oz vodka
1 oz elderflower liqueur (try St. Germain)
¾ oz fresh lime juice
½ oz sage simple syrup (recipe below)
dash bitters
ice
1. In a cocktail shaker filled with ice, add all the ingredients and shake well, until chilled and frothy.
2. Pour into a glass (we like a coupe, martini glass or a tall glass filled with ice) and garnish with elderflowers (if you can find them!) or fresh sage leaf.
3. Toast to learning the cocktail equivalent of string theory.
Sage Simple Syrup
Makes a generous ½ cup
Simmer ½ cup of water with ½ cup of granulated sugar and 2 sage leaves over low/medium heat until sugar is dissolved. Set aside and let cool for an hour, then discard the sage leaves and store simple syrup in a jar for up to one week in the fridge.