Blake Lively vs. Martha Stewart: Whose Job Is Better?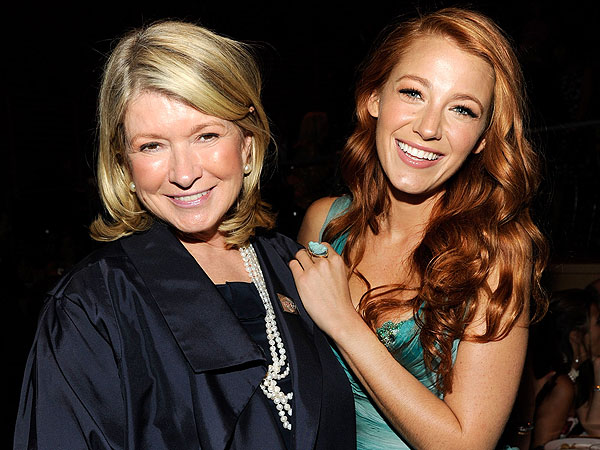 Kevin Mazur/WireImage
"You're so great, Martha. No … you're so great, Blake." Ok, this exchange didn't actually occur between Martha Stewart and Blake Lively, but judging from the media reports about their opinions of one another, it might as well have.
Here's the backstory: Lively, who recently launched Preserve, her lifestyle web site, has said in interviews that's she always idolized the crafting queen. "Who doesn't want to be Martha Stewart? [She] has been a huge inspiration to me my entire life. She's a huge source of inspiration for my mom. She's how I came to know and love Martha. I always say that Martha Stewart Living is the only magazine I ever had growing up. I never had Tiger Beat or any of that stuff," she told E!.
Turns out dreams do come true: Stewart and Lively have become friends, and the grand dame of all things domestic even worked with Lively on her wedding to Ryan Reynolds, dreaming up touches like custom silhouettes and delectable-looking fruit jellies.
But Stewart, a former model herself who also hinted that she's recently filmed a movie, scoffed to the Huffington Post that the Gossip Girl star is the lucky one: "I mean, it's stupid, she could be an actress! Why would you want to be me if you could be an actress?"" adding that she "wants to be Blake Lively."
For the record, this isn't the first time Stewart, who recently lost her sister to a brain aneurysm, has envisioned a new path for herself: She also has said that she'd like to work as a bartender in her next life. Maybe she and Lively could team up and make a movie devoted to all things domestic … and cocktails?
—Lexi Dwyer