Oprah and Stedman Take a Crack at Crabs in Baltimore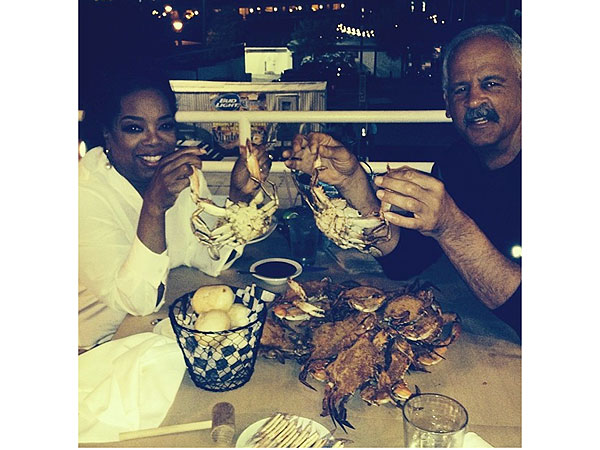 Courtesy Oprah Winfrey
Who says you can't go home again?
Oprah Winfrey did just that Wednesday night in Baltimore — the city where she spent almost eight years in her twenties (and hosted the local morning show People Are Talking for much of that time) — enjoying an al fresco crab feast.

The Hundred-Foot Journey producer and confessed "truffle freak" was joined by longtime partner Stedman Graham at the iconic Captain James Landing Restaurant. The harborside spot is styled to look like a merchant vessel and has its own water taxi stop. The pair posed for a quintessential check-us-out-holding-our-seafood photo (above), which the media diva posted to Instagram with the caption, "Crab feast in Baltimore!".
"We had gotten a phone call from a concierge that they wanted to come out," Captain James owner Bill Tserkis tells PEOPLE. "We seated them on the balcony off our private dining room to give them some space, because obviously when you are eating crabs you don't want to be hassled."
Tserkis said they were joined by another couple and stayed for about two hours. They ordered the restaurant's signature boiled crabs with Old Bay seasoning, crab cakes (shown below) and mussels. "They were just having a normal dinner, talking and laughing," he says.
And they certainly weren't shellfish novices: "They definitely knew how to open crabs," he says. But most importantly, how was the food? "They seemed to really enjoy it, [Oprah] said the crab cakes were really good and Stedman said the crabs were amazing so they had a good time," he added.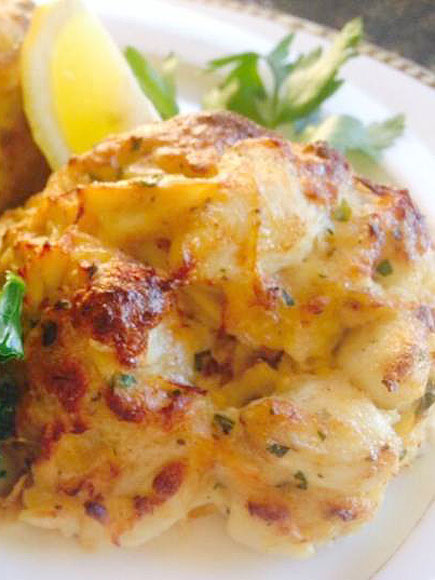 Courtesy Captain James Landing
If looking at Oprah's shot has got you craving seafood, we've got a quick, simple crab cake recipe that will be ready before you can say "a-ha moment."
—Lexi Dwyer