Recipe Redo (Guilt-Free!): Miranda Lambert's Famous Meat Loaf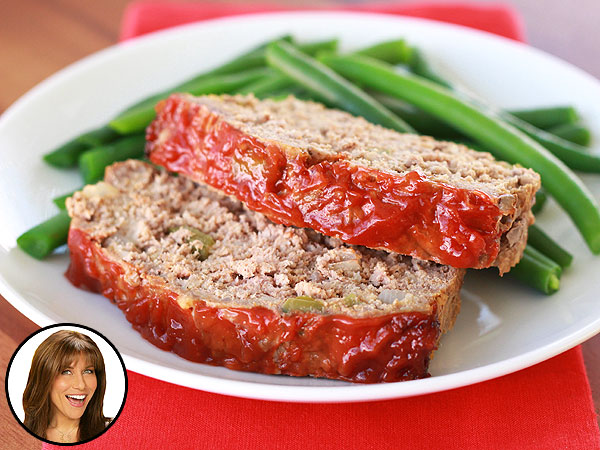 Courtesy Hungry Girl
Lisa Lillien is the author of the popular Hungry Girl website and email newsletter, featuring smart, funny advice on guilt-free eating. She is also the author of nine books, six of which debuted at number one on the New York Times Best Sellers list. Read her PEOPLE.com blog every Monday for slimmed-down celebrity recipes and more.

Country-music star Miranda Lambert has come a long way since the first season of Nashville Star. After finishing in third place, she signed with Epic Records and released her first album, which went platinum. Since then, she's switched labels, released three more records, won a slew of awards (including a Grammy!), and married fellow country artist and judge of The Voice Blake Shelton. Wowzers.
It gets better. The girl knows her way around the kitchen. Case in point: her Famous Meat Loaf. I love the idea of adding sausage to meat loaf for a flavor boost, but the high fat count of the sausage — not to mention the ground beef and eggs — is a bit of a bummer. Luckily, chicken sausage is EVERYWHERE these days! Mix that with some extra-lean beef, egg whites (or egg substitute) and a bunch of other fixings, and you'll have a guilt-free swap for Miranda's yummy meatloaf.
'Til next time… Chew the right thing!
HG's Chicken Sausage Meatloaf Supreme
Makes 5 servings
1 lb. extra-lean ground beef (4% fat or less)
6 oz. (about 2 links) raw chicken sausage, removed from casing
½ cup chopped onion
½ cup chopped bell pepper
¼ cup quick-cooking oats
¼ cup fat-free liquid egg substitute
1 tbsp. Worcestershire sauce
1 tsp. yellow mustard
⅛ tsp. each salt and black pepper
2 tbsp. brown sugar (not packed)
¼ cup ketchup
1. Preheat oven to 400 degrees. Spray a loaf pan with nonstick spray.
2. In a large bowl combine all ingredients except brown sugar and ketchup. Add 1 tablespoon brown sugar, and thoroughly mix. Transfer to the loaf pan.
3. In a small bowl, mix ketchup with remaining 1 tablespoon brown sugar. Evenly spread mixture over the meatloaf.
4. Bake for 50 minutes or until loaf is cooked. Enjoy!
In one serving: 221 calories, 7g fat, 497mg sodium, 13.5g carbs, 1g fiber, 8.5g sugars, 27g protein