Alex Guarnaschelli: My Must-Have Kitchen Tools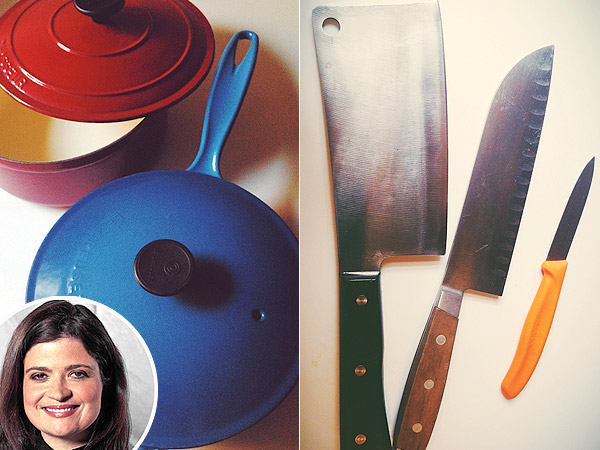 Courtesy Alex Guarnaschelli; Inset: Kevin Lynch/Th
Alex Guarnaschelli is an Iron Chef, Food Network celebrity chef, author of Old-School Comfort Food and the executive chef at New York City's Butter restaurants. Read her PEOPLE.com blog every Tuesday to get her professional cooking tips, family-favorite recipes and personal stories of working in front of the camera and behind the kitchen doors. Follow her on Twitter at @guarnaschelli.
As a professional chef, I'd be a liar if I said I cooked at home every night.
Sure, I grew up in a house where almost everything was made from scratch. But when I first started out, after a long day at the restaurant, my first instinct wasn't to run home and whip up a multi-course meal from scratch. I still cooked, but just not often and nothing elaborate. When I moved out of one apartment after two years I discovered that the paper operating instructions were still inside the oven! A chef who never used her own oven? It was definitely a small dose of reality.
In the past couple of years that has definitely changed. Cooking at home has become a way to connect with my daughter and to stay in love with my profession. I don't always have to time to cook the way I'd like to. But the bigger challenge is dealing with a small Manhattan kitchen, which means I have to be selective about the tools and equipment I have.
I get many questions about what I use most in the kitchen. My best advice: Buy what you love and buy something you feel comfortable using on a regular basis, not what other people think you should have for cookware. The equipment police aren't going to come to your home and arrest you for using the "wrong" pot or pan for a task.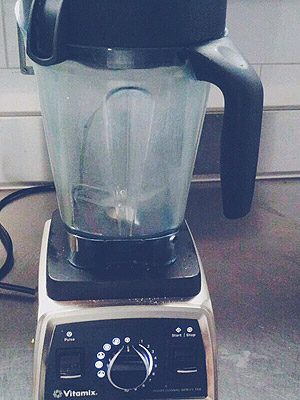 Courtesy Alex Guarnaschelli
The one major investment I recommend is a Vitamix blender — it could puree car parts and make them taste good. As far as a set of pots and pans, I think a small, medium and large sauté pan and a large, heavy-bottomed pot for boiling a good amount of water (for pasta, soups, stocks, etc.) make a great beginning. I'd rather buy a few high quality pots and pans than a dozen cheap ones. To supplement the pans, I love a seasoned cast iron skillet (for anything from getting it RED HOT to sear steaks to using it as a baking dish for a "skillet" corn bread) and a Dutch oven. The heavy-bottomed Dutch oven is great for stews, braises and any long term cooking. When you're choosing a pan, go to a store and hold them in your hands. It has to feel right — not to heavy or light! You want to leave the store with something you'll feel comfortable using.
Knives are more complicated. When I started my first job in a professional kitchen, I took most of the money I had saved and bought a whole bunch of knives. I bought knives of many different sizes: chef's knives, paring knives, a boning knife, an oyster knife, a clam knife and so on. And the collection of equipment got more complex over the years. I bought a pair of scissors made uniquely for opening sea urchin shells, a serrated grapefruit spoon, a miniscule melon baller, a quail egg shell cutter and a channel knife. Yes, I cook for a living, but it got excessive.
You don't have to go beyond your comfort zone or budget to have the basics covered. My favorite paring knife costs about $6 retail. It's small, with a fairly thin and flexible blade, and if I accidentally throw it in the garbage with all of the artichoke peelings or lose it, it's not that big of a deal. My first paring knife cost $90 dollars. I lost it and vowed never to exceed $15 since.
A large chef's knife and a medium knife are slightly different. You should spend a tad more on those because you'll use them for so many things. Try buying knives one at a time — skip the set, which can be too daunting. Instead, buy one, try it out and if you like it go back and get another from the same manufacturer or line.
I'll never forget the day I brought home my first chef's knife and eagerly pulled it out of my knife roll to show my mom. The blade grazed my index and middle fingers and cut them both. I remember thinking, "maybe this chef gig idea wasn't such a good idea after all." I was wrong. I still love cooking as much today. I just handle my knives more carefully now.