Harry Styles Treats His Concert Crew to Banana Cupcakes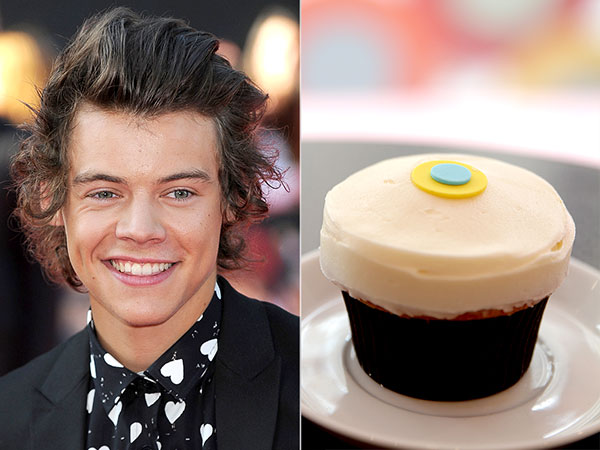 Left: Splash; Right: Courtesy Sprinkles Cupcakes
What's One Direction singer Harry Styles's go-to pre-concert treat? Cupcakes!

While visiting the nation's capital for the northeast leg of the band's "Where We Are" tour, Styles stopped by the Washington, D.C. location of Sprinkles Cupcakes on Sunday night.
"He ordered 14 cupcakes," a source tells PEOPLE. "Two lemon, two raspberry, two vanilla, two vanilla milk chocolate, two black-and-white, two dark chocolate, and two red velvet."
But there was one other flavor in particular that stood out, according to the source.
"He was so impressed, yesterday he sent his manager to get 150 assorted cupcakes, heavy on banana, for cast and crew of the concert."
PEOPLE scored the recipe for both the banana cupcakes and their classic vanilla frosting (at the bakeries, they can also be ordered with chocolate frosting).  Pro tip: It's easier to separate the eggs first, while they are still cold.  Then let them come to room temperature so they will blend into the batter more smoothly.
Next up on the 1D tour? Philadelphia, where we can only wonder if Styles will fall in love with cheesesteak.
Banana Cupcakes
Makes 12 cupcakes
1½ cups all-purpose flour, sifted
1 tsp. baking powder
¼ tsp. coarse salt
¼ cup whole milk, room temperature
1 tsp. pure vanilla extract
¾ cup very ripe bananas, mashed
½ cup (1 stick) unsalted butter, room temperature
1 cup sugar
2 large eggs, separated, brought to room temperature
1. Preheat oven to 350F. Line a 12-cup muffin tin with cupcake liners; set aside.
2. In a medium bowl, whisk together flour, baking powder and salt; set aside. In a small bowl, mix together milk, vanilla, and mashed bananas; set aside.
3. In the bowl of an electric mixer fitted with the paddle attachment, cream butter on medium-high speed, until light and fluffy. Gradually add sugar and continue to beat until well-combined and fluffy. Reduce the mixer speed to medium and slowly add egg yolks and egg whites until just blended.
4. With the mixer on low, slowly add half the flour mixture; mix until just blended. Add the milk mixture; mix until just blended. Slowly add remaining flour mixture, scraping down sides of the bowl with a spatula, as necessary, until just blended.
5. Divide batter evenly among prepared muffin cups. Transfer muffin tin to oven and bake until tops are just dry to the touch, 22 to 25 minutes. Transfer muffin tin to a wire rack and let cupcakes cool completely in tin before icing with vanilla frosting (recipe below).
Sprinkles Vanilla Frosting
Makes enough for 12 cupcakes
2 sticks unsalted butter, firm but not cold
⅛ tsp. salt
3 ½ cups confectioners' sugar, sifted
½ tsp. vanilla
½ tsp. milk (plus additional if necessary)
1. In the bowl of an electric mixer fitted with the paddle attachment, beat the butter and salt on medium speed until light and fluffy, about 2 minutes.
2. Reduce the speed to low, gradually add the confectioners' sugar and beat until incorporated.
3. Add the vanilla and milk and beat until smooth and creamy. Do not overmix or the frosting will incorporate too much air; it should be creamy and dense, like ice cream.
4. Add additional milk, one teaspoon at a time, if frosting does not have a spreadable consistency.
—Tara Fowler