Taylor Swift and Lorde Take Cooking Lesson in Rhode Island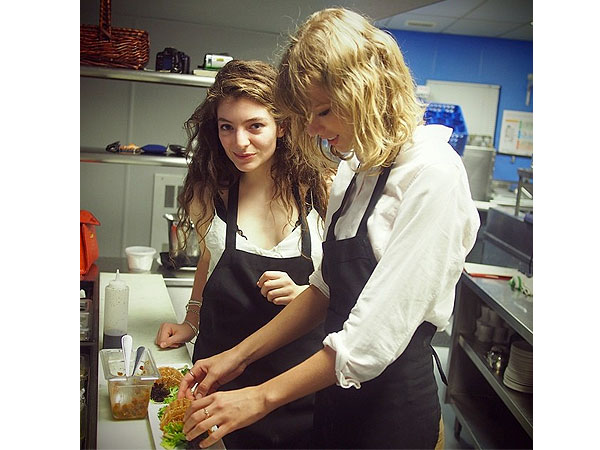 Courtesy Lorde
Taylor Swift recently had the chance to once again mix two things she loves: Girlfriend time and cooking lessons.

The Giver star recently teamed up with the Grammy-winning upstart Lorde (one of her good buddies) to learn a few tricks from chef Jeanie Roland at Ella's Fine Food and Drink. The popular French-Asian restaurant is near Swift's home in Westerly, Rhode Island. Lorde posted the above Instagram shot with the caption, "Took a wonderful cooking class in Rhode Island alongside the already-super-good-cook, ms. @taylorswift."
Ella's co-owner James Roland described Swift and Lorde as "gracious young ladies" and praised their enthusiasm. "They had a great time and they couldn't have been nicer and more determined to cook with Chef Jeanie. They are both very talented cooks," he said. The musicians learned how to make tuna tartare tacos, one of the restaurant's most popular appetizers. The fish is punched up with ingredients like sesame oil and fresh ginger and served in a "won-taco" (wonton taco).
Although the pics were posted Monday and James Roland wouldn't spill about when exactly the class happened, it seems to have been an earlier date, given that Swift has been jet-setting from the Teen Choice Awards in Los Angeles on Sunday to The Giver premiere in New York on Monday night.
Swift also posted the below shot with a glowing review: "Thank you to Chef Jeanie at Ella's Fine Food and Drink for giving us the best and only cooking lesson we've ever had! @lordemusic." Added James Roland, "Tacos are one of Taylor's favorite things in the world."
From Swift's thrilled expression, it looks like she's thinking, "Tacos, you belong with me," and James Roland confirmed her happy state of mind. "They enjoyed everything they cooked, and because it was a private lesson, they obviously got a little more hands-on attention." (You'll find the recipe below, if you'd like to taste its star cred for yourself.)
This isn't the first time Swift has flaunted her culinary chops on social media: She's taken a cooking lesson from Ina Garten at the TV chef's Hamptons home and also baked chocolate-peppermint cookies during a girls' night in with Kelly Osbourne. From the looks of things, the country star is talented enough to launch a second career in the lifestyle realm, à la Blake Lively and Jessica Biel.
Time will only tell if the musicians' session in the kitchen will inspire them to team up on other creative pursuits: A Lorde-Swift duet, perchance?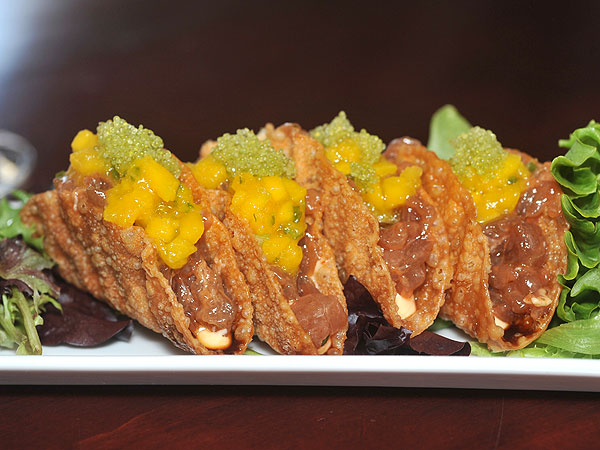 Courtesy Ella's Fine Food & Drink
Tuna Tartare Tacos with Mango Salsa
Makes 8 to 10 tacos
8 oz. sushi-grade tuna, finely diced
3 tbsp. grape seed oil
1 tbsp. sesame oil
2 tbsp. orange juice
2 tsp. light soy sauce
1 tsp. sugar
1 tsp. sea salt
2 tsp. jalepeños, diced
1 ½ tsp. fresh ginger root, grated
2 tbsp. scallions
2 tbsp. fresh cilantro
1 package wonton wrappers
1 cup deep-frying oil (such as canola or corn)
Wasabi tobiko (optional garnish)
1. To make an ice bath, fill a large bowl with water and ice and set aside. Place chopped tuna in a medium-size bowl.
2. Stir grape seed and sesame oils together in a small bowl; pour oil mixture over the tuna so it's fully coated.
3. Place the tuna-oil mixture over the ice bath so it stays chilled as you work. Stir in remaining ingredients; mixture should feel slightly sticky. Cover with plastic wrap and refrigerate.
4. Heat oil in a heavy skillet until it reaches 350F. Fry wontons for about 10 to 20 seconds each. To cool in a taco shape, drape them over a surface such as a wooden rolling pin, a few cutting boards pushed together or the slats of an oven rack.
5. Fill tacos with tuna tartare and top with mango salsa (recipe below) and wasabi tobiko.
Mango Salsa
Makes about ¾ cup
1 ripe mango, finely diced
1 jalapeño, finely diced
1 tbsp. chopped fresh cilantro
1 tbsp. chopped scallion
1 tsp. agave syrup
1 tsp. orange juice
1 tbsp. grape seed oil
salt and white pepper (to taste)
Place all ingredients in a medium-size bowl and stir until well-combined.
—Lexi Dwyer