Exclusive: See Honey Boo Boo's Sister's Surprisingly Classic Wedding Cake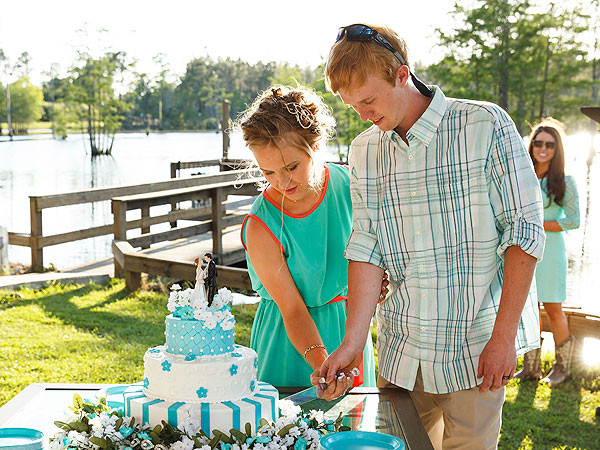 Paul Abell/AP/Getty
Despite her "redneck" roots as Honey Boo Boo's sister, Anna "Chickadee" Shannon chose a wedding cake that was, as her family members would say, "beautimous."

The wedding of the 19-year-old bride, who married Michael Cardwell on May 3, will air on TLC's Here Comes Honey Boo Boo finale on Thursday night, but PEOPLE got the full scoop about the wedding cake.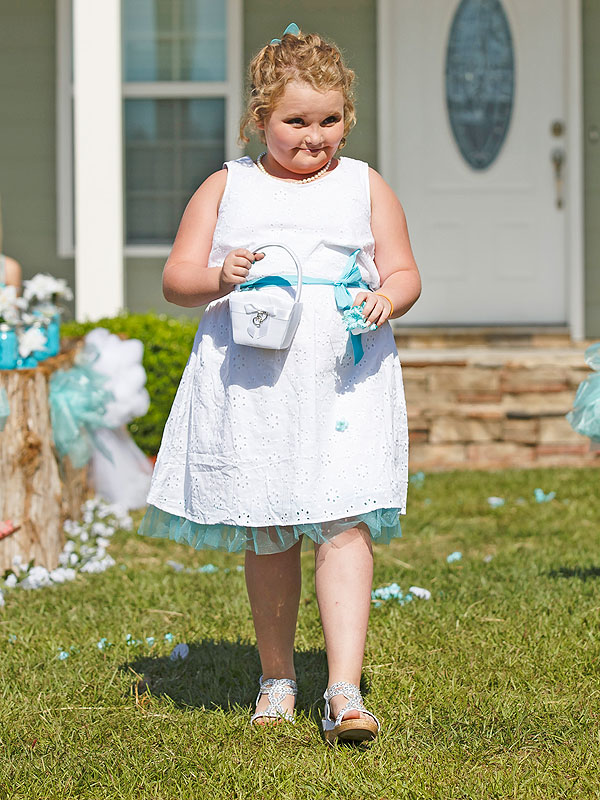 Mark Von Holden/AP
The first fact you need to know: The cake was baked by Mama June's sister Joanne Shannon of The Cake Box Bakery in Griffin, Georgia. (Fans of the show will remember June's brief stint working there.)
Anna, who saw the design in a magazine and sent the photo to her aunt, asked for her 3-tier cake to be decorated with an elegant white-meets-Tiffany-blue color scheme. And talk about a labor of love: It took Joanne about a day to complete the trio of chocolate, vanilla and strawberry flavors for her niece.
After the ceremony, the newlyweds swapped their wedding finery for more casual outfits that also coordinated with their cake and decor colors (but of course!).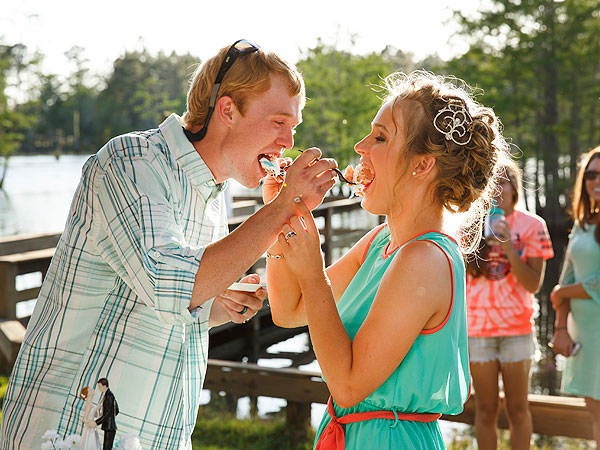 Mark Von Holden/AP
Both the bride and her mom apparently have strong feelings about frosting. Though the cake's exterior looks sturdy and flawless despite the sunny day, that's buttercream, not fondant, covering the layers — because both Anna and June really dislike fondant.
Like the cake, the rest of the wedding was also rather Pinterest-worthy, with fun touches like painted mason jars filled with daisies, rough-hewn tree stumps marking the aisles and a bridal party decked out in a mix of whites, neutrals and bright pops of blue.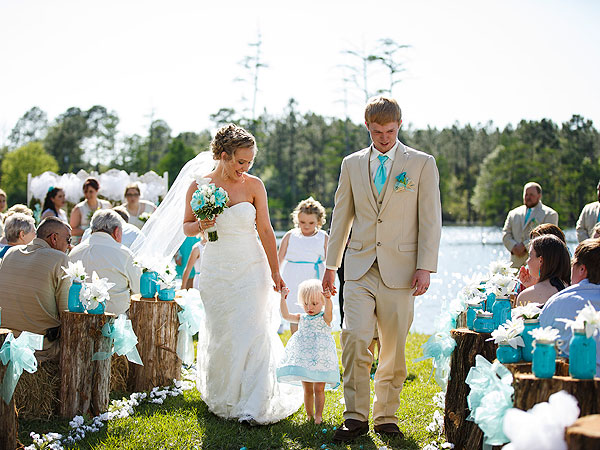 Mark Von Holden/AP
And of course there were the must-have kid moments: The pageant star herself made an appearance down the aisle in an eyelet dress with a tulle underlay and the bride's two-year-old daughter, Kaitlyn, walked in with her mom and the groom in an adorable dress with a blue flower pattern.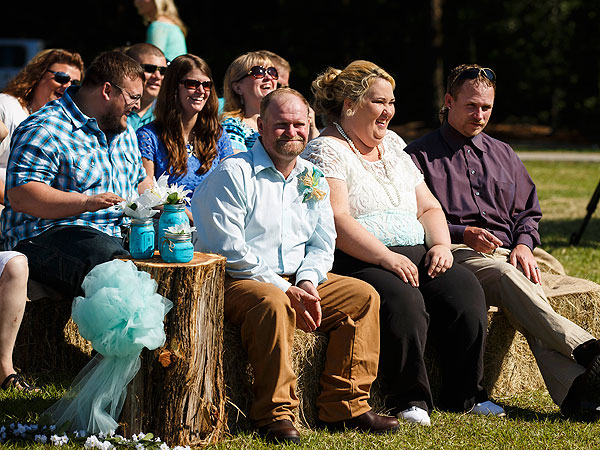 Mark Von Holden/AP
Anyone who's ever hosted (or attended!) a wedding knows that there's always at least one element of the day that doesn't go according to plan. For Anna and Michael, it was their cake topper: The mini bride and groom were supposed to be blond, but the company sent the wrong one. However, since it arrived just days before the wedding and there wasn't time to fix, the couple just used it anyway!
—Lexi Dwyer