Julianne Hough and Boyfriend Have a Burger Date in Idaho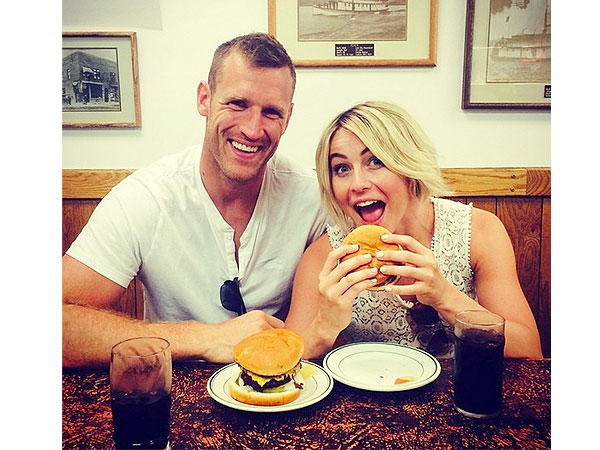 Julianne Hough
How does Julianne Hough celebrate the end of her national summer summer dance tour? With big, juicy burgers of course!

The blonde beauty and her hockey boyfriend, Brooks Laich, stopped in to Hudson's Hamburgers in Coeur d'Alene, Idaho on August 12 where Hough Instagrammed a photo of the pair chowing down on the restaurant's signature burgers.
The dancer, in town to visit family, brought her beau to the 107-year old establishment, where burgers are the only thing on the menu and customers can choose from two different toppings and two sauces (a homemade hot ketchup and mustard).
Although Hough has frequented the burger joint with her brother Derek — "The Hough family has been eating at Hudson's for years," says Joni Hudson, whose family owns the restaurant. "Julianne and Derek order 'Cheese Both,' a cheeseburger with pickles and onions" — she decided to take Laich for the first time.
Cozying up at the restaurant's counter, the couple was "happy and fun loving with each other," says waitress Cassie Hudson, who actually took the photo of the pair. "Julianne was explaining Hudson's [burgers] to Brooks. They were just having a good time, enjoying themselves."
—Michelle Ward