Hungry Girl's Healthy Frozen Treats Survival Guide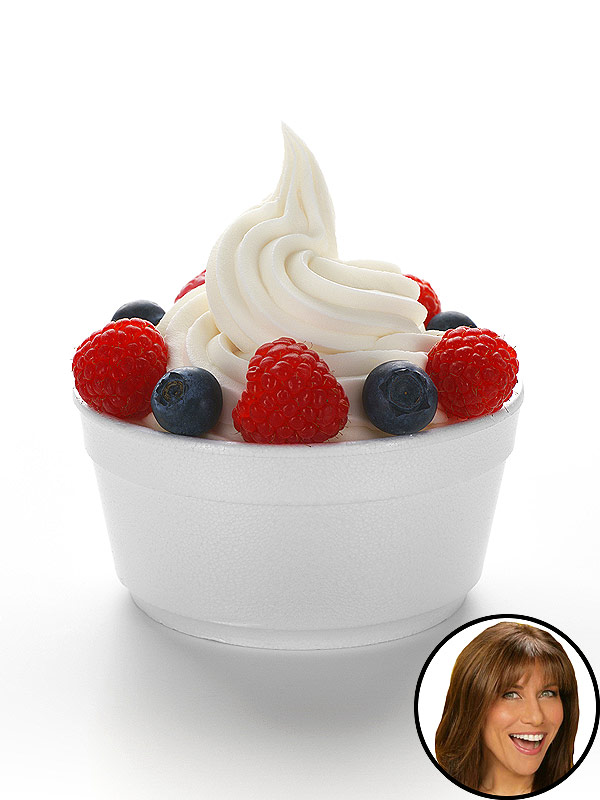 TheCrimsonMonkey/Getty; Inset: Courtesy Hungry Girl
Lisa Lillien is the author of the popular Hungry Girl website and email newsletter, featuring smart, funny advice on guilt-free eating. She is also the author of nine books, six of which debuted at number one on the New York Times Best Sellers list. Read her PEOPLE.com blog every Monday for slimmed-down celebrity recipes and more.

When it's hot outside, it can be hard to resist the siren song of frozen treats. (Kourtney and Khloé know what I mean.) NEWSFLASH: You can totally indulge without going completely overboard on calories and fat. Order smart with these tips and picks.
Pinkberry
What's one of the best Summer Collection combos for 2014? Pairing the classic tart fro yo with crushed watermelon. I'm feeling more refreshed just thinking about it! A Small Original with that melon has just 145 calories; a Medium order has 235. YUM!
Yogurtland & Menchie's
The key at self-serve places like Yogurtland or Menchie's Frozen Yogurt — portion control! The low calorie counts you see at Yogurtland are for a single ounce of yogurt, and they don't take into account the inevitable toppings. So stick to a smaller portion of the lighter yogurt options — like Yogurtland's Blueberry Tart — and load up on fresh fruit as a topping.
TCBY
Want a protein boost with your sweet treat? Try out some of TCBY's soft-serve Super Fro Yo. Want even MORE protein? Order the Greek Honey Vanilla — the first soft-serve Greek yogurt! A 1/2-cup serving has 100 fat-free calories, 4 grams of fiber, and 8 grams of protein. Wow!
Dairy Queen
Beware of the Blizzards! Those things are bad news for your waistline. Even a seemingly safe small Oreo Cookies Blizzard has 550 calories and 20g fat. (A large Chocolate Xtreme Blizzard? 1,380 calories and 64g fat!) But that doesn't mean everything on the menu will take you down. Keep it simple. A small Pineapple Sundae has 230 calories and 7g fat. Not bad!
Ben & Jerry's
Is it frighteningly easy to get into trouble at Ben & Jerry's? Heck, yes! Does that mean you need to avoid it altogether? No way! One word: SORBET. Those crazy Vermonters make a mean sorbet; snag the Mango Mango (the fruit so nice, you say it twice). A 1/2-cup serving has 100 calories and 0g fat, so order accordingly.
Baskin-Robbins
Finally, I'm a big fan of the BRight Choices lineup  — those words are basically the secret code for guilt-free goodies. The newest addition is the Super Yumberry Greek Frozen Yogurt, with a super-fruit triple-berry ribbon running through it. A small 2.5-oz. serving has 130 calories and 3.5g fat. Yum is in its name, you guys.
'Til next time… Chew the right thing!