WATCH: Bruce Willis Shows David Letterman His Invention for Eating Corn on the Cob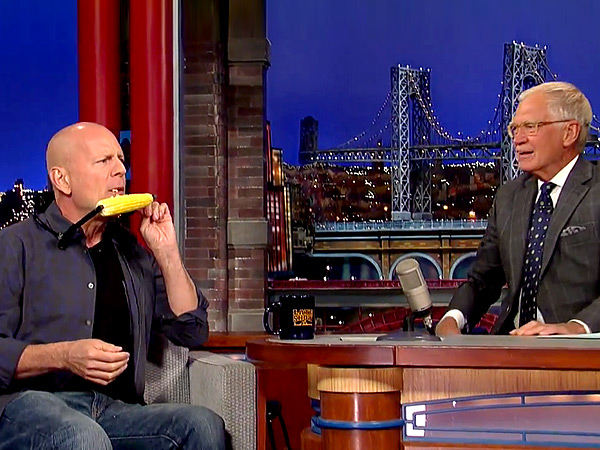 YouTube
We know that Bruce Willis plays a mean harmonica thanks to his appearance on Saturday Night Live last fall. What we didn't know is that he's an inventor, too!

Introducing the Bruce Willis Hands-Free Corn-Eating System. Willis debuted his clever invention on The Late Show with David Letterman last night. The gadget uses a harmonica neck rack to hold the corn cob right at the perfect level for chowing down. It might not be the tidiest way to enjoy corn on the cob, but it is convenient if you're at a barbecue and already juggling a plate.
Willis even demonstrated how you can share your corn on the cob with a friend when using his hands-free contraption by getting Letterman to take a few bites as well.
We're a bit more skeptical of his method of adding butter to the corn, but not every invention can be a slam dunk. Check out the video of Willis's appearance below.
No word on whether or not Willis will be marketing his hands-free corn-eating system, or if we'll just have to DIY our own version. But it's definitely a celebrity Kickstarter we'd support.
—Kristin Appenbrink