Make the Fool's Gold Sandwich From Daniel Radcliffe's Movie 'What If'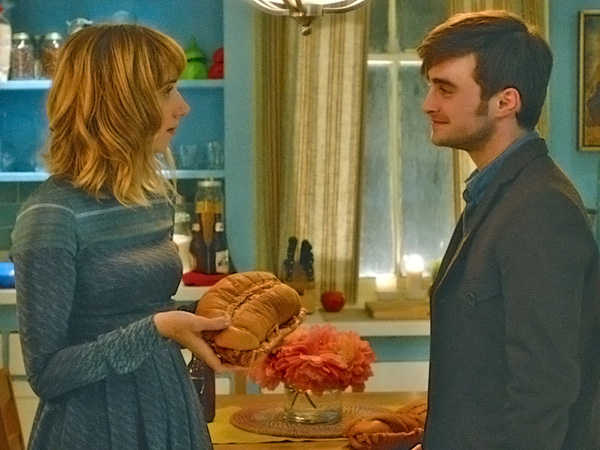 CBS
There's no denying it, food brings people together.

Such is the case with Daniel Radcliffe and his onscreen love interest in the new romantic comedy What If, in theaters nationwide on Aug. 22.
The former boy wizard plays a guy who falls for a girl with a shared love of the Fool's Gold sandwich (see the sammie-centric scene from the film below). It consists of a loaf of bread coated with butter, rebaked, hallowed out and then stuffed with a jar of peanut butter, a jar of jam, and a pound of juicy bacon (Clearly, it's not for those who are calorie-counting). The school-lunch throwback with bacon was born in Denver and was a favorite of The King himself, Elvis Presley.
According to The Denver Post, the sandwich was a novelty item on the menu at the now-closed Colorado Mine Company, where Nick Andurlakis was a teenage cook.
"I made a really nice one for him, served it on a miner's plate with about two pounds of fruit," Andurlakis said of serving Presley. "Elvis loved it. It's a good sandwich. Every once in a while, someone will call in from Graceland and want to order one."
For nearly three decades, Nick and Kathleen Andurlakis have owned Nick's Cafe in Golden, Colorado, where they still serve the sammies for $7 in a small room filled with Elvis memorabilia.
While framed photos of The King would be a nice backdrop for the classic sandwich, you don't have to viva to the Rockies to get one. New York City's Peanut Butter & Co. has created a recipe that you can whip up at home.
"Fool's Gold" Sandwich
Serves 8-10
1. Coat a loaf of Italian bread in butter.
2. Bake it.
3. Hollow out the loaf.
4. Fill it with an entire jar of Smooth Operator peanut butter and an entire jar of jam.
5. Finally, stuff it with a pound of crispy bacon.
—Amy Jamieson