Alie & Georgia: 5 Must-Know Tips for Campfire Cooking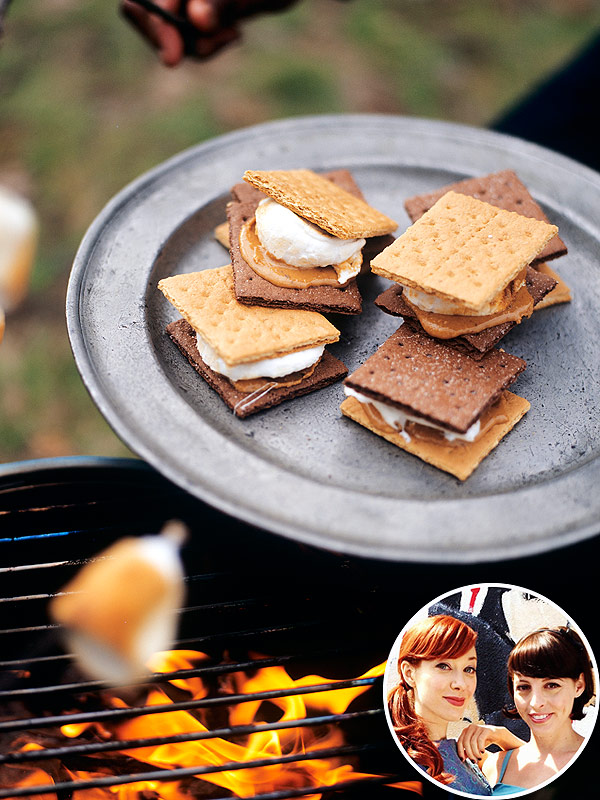 Quentin Bacon/Getty; Inset: Courtesy Ali & Georgia
Alie Ward and Georgia Hardstark, a.k.a. Alie & Georgia, host Cooking Channel food-travel series Tripping Out with Alie & Georgia. Visit PEOPLE.com every Thursday for their playful spins on celebrity recipes, cocktails, entertaining ideas—and, of course, lots of laughs!

Before autumn officially begins, we still have the wonders of Labor Day: that last breath of fun before it's all back-to-school bummers. There's no better way to celebrate the warm weather than to be out in it. So here are a few staples for comfort foods you can enjoy by a campfire — whether it's in the middle of the woods or in your own backyard. The important thing is that you're not inside. (Because the weather is still nice, and also don't build a campfire in the middle of your floor because then your house would burn down and no one would get to eat marshmallows.)
A few campfire tips we swear by:
1. Sausages are Your Friend
Stab a sausage on anything that's longer than your arm, turn it over a flame, and you have dinner. Bonus: It's low carb! You want spicy? You want smoked? Cheese-stuffed? Vegan? You can have it. Keep an array on hand for your campfire cronies, and you're good to go. And by "good to go" we mean "good to sit like a lump and stare into the mesmerizing flames."
2. Pita and Brie for the Win
For the more sophisticated set, make an easy, fancy-pants sandwich by stuffing a pita bread pocket with some brie cheese and raspberry jam. Wrap it in foil, toss it on the fire and in a few minutes you have soft bread filled with molten French cheese. You may never use your kitchen again.
3. Pie Iron Anything
If you're a human that likes gadgets more than pointed sticks, we have to give big ups to pie irons. Take two pieces of bread, put some stuff you want melted in it, close it up and hold it over the fire. This also works for instant cake and corn bread mixes! Oh, hello tiny metal oven. We love you.
4. S'mores, of Course
Did you know it's actually illegal to have a campfire without making s'mores? No? That's because we made that up — but it should be a law. But instead of roasting your marshmallow and slipping it on to a graham cracker with a thick slab of this-never-melts chocolate, up your campfire game by swapping out the chocolate bar for a smear of peanut butter or chocolate hazelnut spread. It'll melt faster, and it may just be the best s'more you've ever had.
5. Don't Forget the Corkscrew!
If you plan to enjoy some vino out in the woods, or your backyard, make sure you have a way to open it without having to shatter it at the neck and endanger yourself. Just bring a little corkscrew and you'll save yourself a lot of sad aggravation. Or forget the wine and sip some cinnamon whiskey out of a canteen! It'll warm you up and what better time to share a canteen of whiskey than by the campfire?
With that, get off the computer and outside, before the sky starts dropping frozen water on us for six months. Just sayin'.