Sarah Jessica Parker Feasts on Tamales and Margaritas in Houston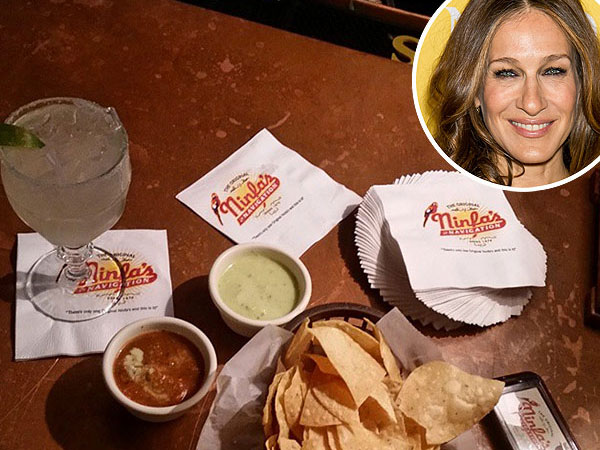 Courtesy Sarah Jessica Parker; Gilbert Carrasquill
She may have just perfected her first life-changing burger, but when it comes to Mexican food, Sarah Jessica Parker prefers to dine out.

The actress, who is on tour to launch her SJP Collection, posted photos on Instagram of a mouth-watering display of food — starting with chips, salsa and a margarita at The Original Ninfas on Navigation in Houston on Wednesday.
"She was so sweet, and told me that she had heard about our restaurant in New York and couldn't wait to try our tamales, fajitas and margaritas," says Kady Lopez, who waited on Parker and her three friends.
"Gluttony. Oh dear. Oh yes. Ninfas! Will I recover in time? there is more the photo doesn't show. #sjpwhistlestop," she captioned the photo of the group's Mexican spread.
What the photo also doesn't show is Parker's bubbly personality.
After the group was full to the brim, "she posed for pictures with a few of our waitstaff," Lopez tells PEOPLE. "She seemed very happy and had a wonderful time."
If you're craving a good margarita after reading this story, try mixing up the very cocktail Parker and her friends enjoyed in Houston.
The Navigation Margarita
Makes 1 cocktail
1 oz. fresh lime Juice
1 tbsp. agave nectar
.75 oz. triple sec
1.5 oz. tequila
In a cocktail shaker, mix lime juice and agave nectar. Add triple sec, tequila and ice and shake well. Strain into a salt-rimmed margarita glass with ice. Garnish with a lime wedge.
—Ana Calderone