Create Your Own Dishes Inspired By the Emmy's Governors Ball Menu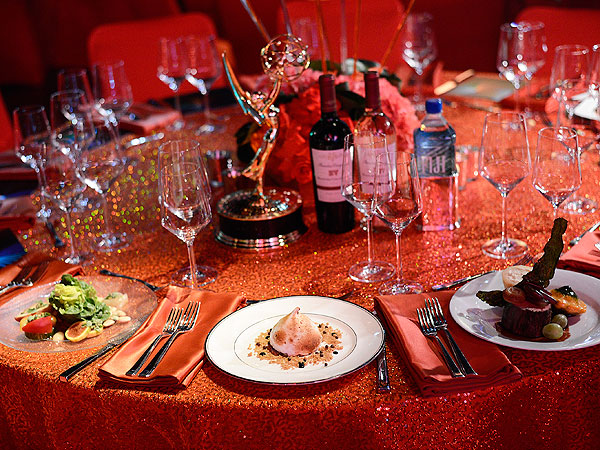 Tonya Wise/Invision/AP
Want a taste of what Jon Hamm, Kerry Washington and Julia Louis-Dreyfus will be sampling after they win (or lose) at the Primetime Emmy Awards on Monday?

While television's A-listers will be served a four-star menu at the Governors Ball, the celebrity-studded after-party that follows the awards show, the event's caterer, Patina Restaurant, took inspiration from those dishes and designed a version exclusively for PEOPLE that can be prepared at home.
While nominees like Bryan Cranston and Taylor Schilling will be served a grilled peach and heirloom tomato salad appetizer (see below), Patina chef and founder Joachim Splichal created a bruschetta spinoff for home cooks with peaches, figs and almonds topping ciabatta bread.
Instead of plating an individual portion of beef tenderloin for each diner (see below), Splichal suggests a more family-friendly option: placing the meat on a butcher block and cutting thin slices. He offers a simple grape relish and deep-fried potato slices as accompaniments.
And to finish off the meal: S'mores cupcakes, a treat that's a scaled-down version of his crème-brulee-topped S'mores.
With a menu like this, be prepared for a standing ovation from your dinner guests.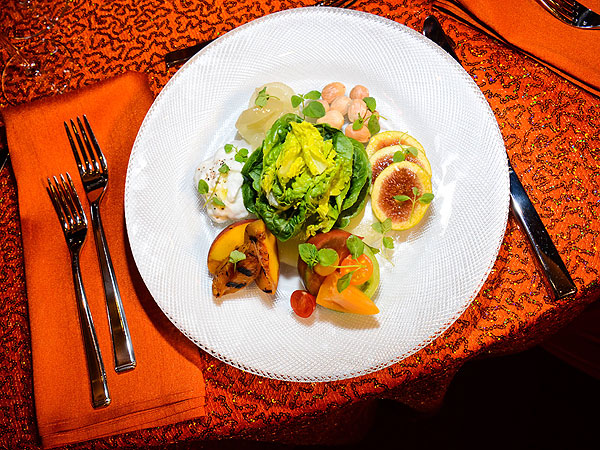 Tonya Wise/Invision/AP
Peach-Fig-Tomato Bruschetta
Serves 8
16 slices toasted ciabatta bread
1 cup chopped yellow peaches
1 cup chopped candy-striped figs
1 cup chopped tomatoes
¼ cup chopped Vidalia onion, diced
¼ cup chopped flat leaf parsley
½ cup honey vinaigrette (see below)
Kosher salt and freshly ground pepper, to taste
¼ cup chopped fresh basil
¼ cup chopped Marcona almonds, toasted
Combine peaches, figs, tomatoes, onions and parsley in a bowl. Dress with vinaigrette, salt and pepper. Spoon mixture on top of toasted bread. Garnish with basil and almonds.
Honey Vinaigrette
¼ cup seasoned rice wine vinegar
2 tsp. dijon mustard
2 tbsp. honey
¼ cup extra virgin olive oil
Kosher salt and freshly ground pepper, to taste
Whisk all ingredients in a bowl until combined.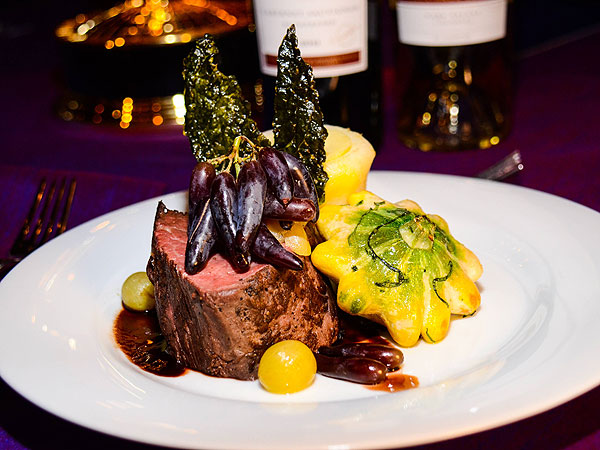 Tonya Wise/Invision/AP
Filet of Beef with Grape Relish and Crispy Potatoes 
Serves 8
1 lb. potatoes
½ gal. canola oil
Kosher salt and fresh ground black pepper, to taste
4-5 lbs. prime beef tenderloin
2 cups grape relish (see below)
Kosher salt and fresh ground black pepper, to taste
1. Peel and slice potatoes paper thin on mandoline. Soak in cold water for 20 minutes. Strain potatoes well and dry on paper towels.
2. In a heavy pot, preheat the oil to 375F. Deep fry the sliced potatoes in small batches until golden brown, about 3-4 minutes. (Be sure to allow oil to return to 375 degrees between batches.) Season with salt and pepper.
3. In a large skillet, sear, roast and rest filet of beef.
4. Slice to order on a butcher block or cutting board and serve with grape relish and crispy potatoes.
Grape Relish
1 lb. assorted grapes, seeded and halved
2 tbsp. minced shallots
2 tbsp. chopped chives
2 tbsp. seasoned rice wine vinegar
2 tbsp. extra virgin olive oil
Kosher salt and freshly ground pepper, to taste
Combine all ingredients in a serving bowl. Mix well and serve at room temperature on carving station with sliced filet mignon.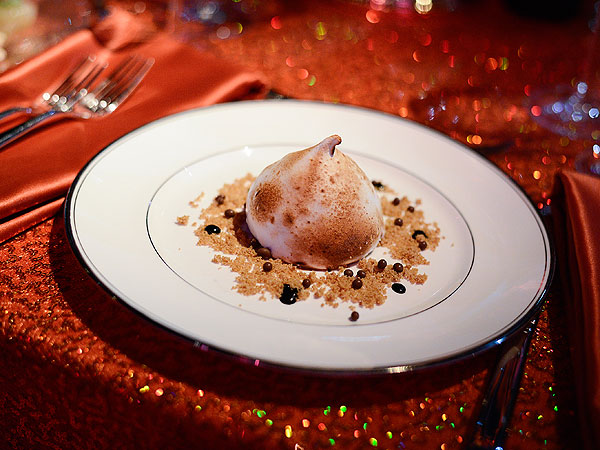 Tonya Wise/Invision/AP
Chocolate S'Mores Cupcakes with Graham Cracker Crumble 
Serves 24
2¼ cups, plus 2 tbsp. sugar
1¾ cup flour
¾ cup, 1 tbsp. cocoa powder
1 tsp. baking powder
1½ tsp. baking soda
1 tsp. salt
2 large eggs
1 cup whole milk
½ cup vegetable oil
2 tsp. vanilla extract
1 cup boiling water
1½ cup graham cracker crumbs
⅓ cup unsalted butter, melted
9 oz. bittersweet chocolate, finely chopped
2 jars marshmallow frosting
1. Preheat oven to 350F. Line 2 standard muffin tins with cupcake liners; set aside.
2. Sift 2 cups plus 2 tbsp. sugar, flour, cocoa powder, baking powder, baking soda and salt together into the bowl of an electric mixer. Using the paddle attachment, mix ingredients together on low speed.
3. In a large bowl, mix together eggs, milk, oil and vanilla. Add to flour mixture and beat on medium speed for 30 seconds. Scrape down sides of bowl and continue mixing on medium speed for 2 minutes. Add boiling water and stir to combine; set cake batter aside.
4. Place graham cracker crumbs, remaining ¼ cup sugar, and melted butter in a large bowl; stir until well combined.
5. Place 1 tbsp. graham cracker mixture into the bottom of each prepared muffin cup. Use the bottom of a small glass to pack crumbs into the bottom of each cupcake liner. Reserve remaining graham cracker mixture for topping.
6. Place 2 tsp. chocolate in each muffin cup. Transfer muffin tins to oven and bake until the edges of the graham cracker mixture are golden, about 5 minutes. Remove from oven and fill each muffin cup three-quarters full with cake batter. Sprinkle each with remaining chocolate and graham cracker mixture. Return to oven and bake, rotating pans halfway through baking, until tops are firm and a cake tester inserted in the center comes out clean, 18 to 20 minutes. Transfer muffin tins to a wire rack and let cupcakes cool in pan for 10 minutes. Remove cupcakes from pan and let cool completely.
7. Transfer frosting to a large pastry bag fitted with a large plain round or French tip. Pipe frosting in a spiral motion on each cupcake. Transfer cupcakes to a baking sheet. Using a kitchen torch, lightly brown the frosting, taking care not to burn the cupcake liners.
—Nancy Mattia