Hungry Girl: The Only Grilled Chicken Recipe You'll Need For Labor Day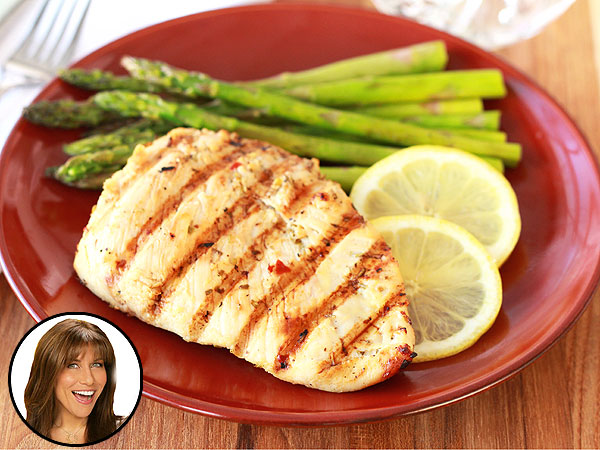 Courtesy Hungry Girl
Lisa Lillien is the author of the popular Hungry Girl website and email newsletter, featuring smart, funny advice on guilt-free eating. She is also the author of nine books, six of which debuted at number one on the New York Times Best Sellers list. Read her PEOPLE.com blog every Monday for slimmed-down celebrity recipes and more.

The recipe of the day, Marinated Chicken Alla Griglia, originated with two very talented guys. Andrew Carmellini is a famous chef and cookbook author, specializing in Italian and French cooking, who's won two James Beard Foundation Awards. And Robert De Niro… is Robert freaking De Niro. Carmellini is also the chef and a partner at NYC's Locanda Verde, located inside The Greenwich Hotel, owned by the aforementioned movie star.
I love the simplicity of this impressive recipe. Plus, it has a pretty Italian name — sure, it just translates to "grilled," but your neighbors don't need to know that. And best of all, it's so easy: You just marinate it for two hours, and then pop that poultry on the grill.
In Casino, De Niro's character Ace Rothstein quipped, "There are three ways of doing things around here: the right way, the wrong way, and the way that I do it." I'd like to add one more… the Hungry Girl way! I stick with straight-up skinless chicken breast, rather than the quartered birds. (Sorry, fatty dark meat.) And all that oil in the marinade? Hardly necessary, with all the flavorful ingredients. My slimmed-down recipe is serious business.
'Til next time… Chew the right thing!
Chicken a la Hungry Girl-lia
Makes 4 servings
2 tbsp. seasoned rice vinegar
1 tbsp. olive oil
1 tbsp. chopped garlic
1 tsp. dried oregano
1 tsp. dried rosemary
¼ tsp. red pepper flakes
⅛ tsp. each salt and black pepper
½ lemon, sliced
Four 5-oz. boneless skinless chicken breast cutlets, pounded to 1/2-inch thickness
1. In a small bowl, mix all ingredients except lemon and chicken. Pour mixture into a large resealable bag. Add lemon and chicken, remove as much air as possible, and seal. Gently massage marinade into chicken. Refrigerate for 2 hours.
2. Bring a grill sprayed with nonstick spray to medium-high heat. Place chicken on the grill, and discard excess marinade and lemon slices. Cover and cook for 6 minutes.
3. Flip chicken, re-cover, and cook for about 6 minutes, until cooked through. Enjoy!
1/4th of recipe: 203 calories, 5g fat, 319mg sodium, 4g carbs, 0.5g fiber, 2.5g sugars, 33g protein