Alex Guarnaschelli on Inspiring Young Chefs in the Kitchen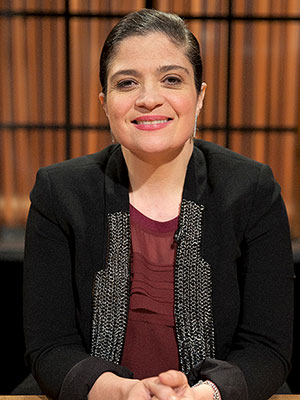 Courtesy Food Network
Alex Guarnaschelli is an Iron Chef, Food Network celebrity chef, author of Old-School Comfort Food and the executive chef at New York City's Butter restaurants. Read her PEOPLE.com blog every Tuesday to get her professional cooking tips, family-favorite recipes and personal stories of working in front of the camera and behind the kitchen doors. Follow her on Twitter at @guarnaschelli.
Teen chefs. Really? I have to be honest: Looking back at my own experiences, I didn't have an inkling about wanting to cook professionally until I graduated from college. My friends say they remember me wanting to become a chef as they watched me warm up some leftover rice pilaf, make ramen in a hot pot or assemble a large lasagna. I don't recall that feeling.
Now I routinely meet teens who tell me they are drafting their first cookbook or planning world domination the minute they graduate from culinary school. At first, I was a tad skeptical. Professional cooking has been overly romanticized — it's still one of the most rewarding and thankless professions. To be honest, it's manual labor. When I see a food-obsessed teen, my first instinct is to encourage them to just enjoy being a teenager.
Then came the Chopped Teen Tournament. And that might have changed my mind a little bit…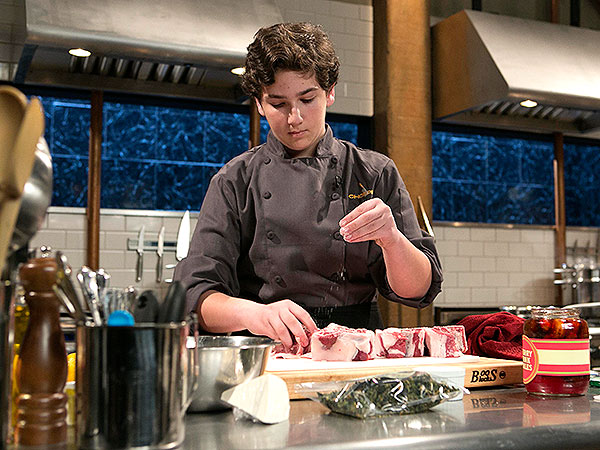 Courtesy Food Network
The teenagers on the show are so creative. They take risks with the ingredients that some adults wouldn't even imagine. I can't get in the way of that kind of unbridled passion and ambition, if it's coming freely from such a young heart. It's inspiring!
I find parents often ask me what they can do to cultivate future "chefdom" in their children. "My son tells me he only wants to be a chef and a cookbook writer when he grows up," confessed one mother to me recently at the playground. "My daughter really wants to be a great baker and wants to cook her way through Julia Child's books!" exclaimed another mother. And then the same question always comes next: "What should I, as a parent, do to help and nurture this?"
My parents cooked avidly, so I was always exposed to it throughout my childhood. Does that mean a parent has to be cooking all the time or be a chef in order to cultivate a chef? No. I think gently nurturing your child is enough. My parents never encouraged me to cook. My mother simply asked me (although sometimes it wasn't exactly a question) if I would like to peel some carrots and potatoes or knead some bread dough.
She recruited and involved me in cooking, and it simply became part of the fabric of our family life as I was growing up. I also know chefs that had the opposite experience. Their parents rarely cooked. Some of them tell me both their parents were actually not good cooks and that they became chefs because of some of the not-so-great home-cooked meals that they had to endure growing up!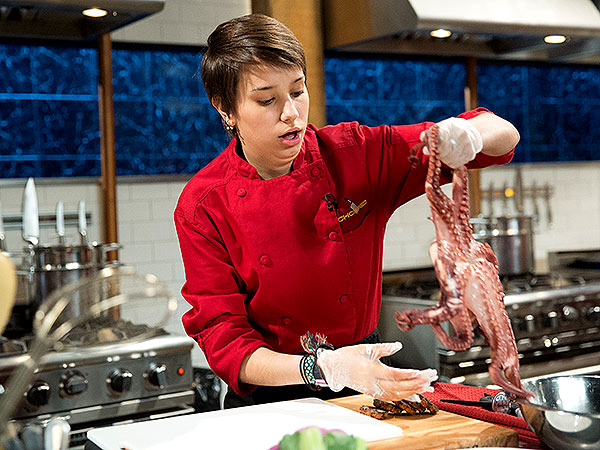 Courtesy Food Network
My parents started me with the basics. For this reason, I am a big fan of cookbooks. There are books that comprehensively cover the fundamentals of cooking. Where to start? I recommend:
Mastering the Art of French Cooking by Julia Child
The Fannie Farmer Cookbook by Marion Cunningham
How to Cook Everything by Mark Bittman
There are also the cookbooks that beautifully tell the story of cooking and love affairs with cooking such as The Zuni Café Cook Book by Judi Rogers and  Simply French by Patricia Wells with Joel Robuchon. From there you can move on to the food science of Harold McGee or the cookbooks of  Alice Waters and Deborah Madison, which have distinct cooking philosophies.
Watching these teen chefs on Chopped was inspiring. Sequoia Pranger, for instance, was wonderful and resilient. She competed with such enthusiasm for the ingredients and for cooking. Jason Khaytin, who is involved in a cooking club at school, was amazingly confident at the ripe age of 14 and fun to watch as well. Cooking, for these teenagers, is clearly a way of connecting with a passion and, maybe down the road, a profession. They almost made me wish I had connected with professional cooking at a younger age. But I say, if you love cooking, it will find you. No matter what age you are.