RECIPES: Italian Combo and Herbed Cheese Panini Sandwiches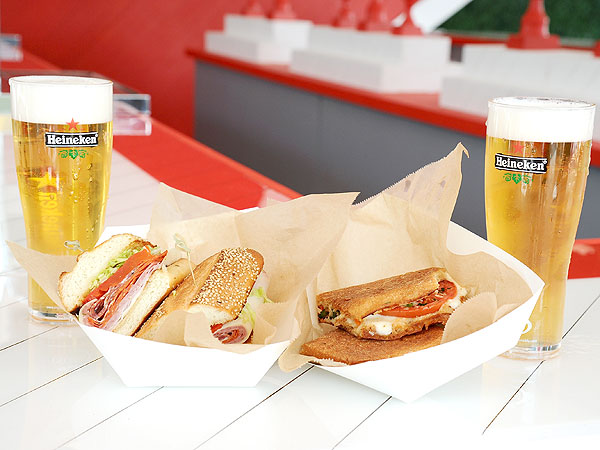 Ilya S. Savenok/Getty
Chef Mario Carbone
Heineken House at the 2014 U.S. Open
Zesty Italian Combo
Serves 1
1 Italian hero roll, toasted and cut in half
3 thin slices pepperoni
3 thin slices sopressata
3 thin slices Genoa salami
4 thin slices ham
3 thin slices mortadella
3 thin slices provolone cheese
3 tbsp. sliced sweet peppers
2 thin slices tomato
¼ cup shredded iceberg lettuce
2 oz. Italian red wine vinaigrette, divided in half
1. Build the sandwich on the bottom half of hero roll with sliced meats, cheese, and tomato slices. Dress the shredded iceberg lettuce with 1 ounce of vinaigrette and add to sandwich, finishing with sliced sweet peppers.
2. Brush the top half of the roll with the rest of the vinaigrette and assemble sandwich. Cut in half to serve.
The Godfather (Herbed Cheese Panini)
Serves 1
1  ciabatta roll, cut in half
2 tbsp. garlic butter
2 tbsp. grated parmesan
4 slices fresh mozzarella (approximately 3 to 4 oz.)
1.5 tbsp. mixed chives and parsley, chopped
2 fresh basil leaves, torn in half
1. Spread both sides of the roll with the garlic butter. Top both sides equally with grated parmesan and chopped herbs.
2. Top the halves with 2 slices of mozzarella each. Add tomato slices and torn basil leaves and assemble sandwich.
3. Heat panini press and cook sandwich until cheese is melted and bread is toasted. Cut in half to serve.