Harley Pasternak: Is Sugary Cereal Making Your Child Gain Weight?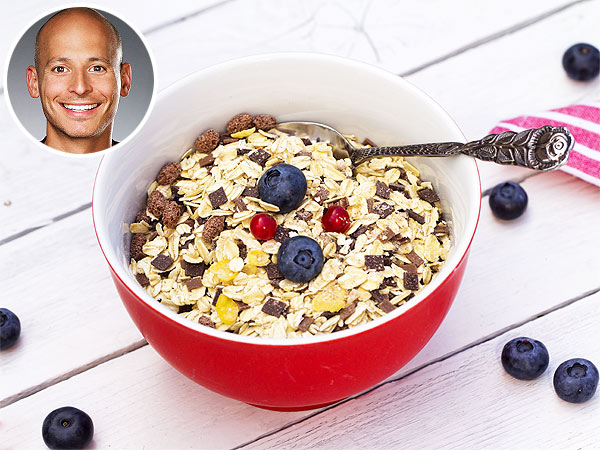 Getty; Inset: Courtesy Harley Pasternak
Harley Pasternak is a celebrity trainer and nutrition expert who has worked with stars from Halle Berry and Lady Gaga to Robert Pattinson and Robert Downey Jr. He's also a New York Times best-selling author, with titles including The Body Reset Diet and The 5-Factor Diet. Tweet him @harleypasternak.
Would you serve your kids candy for breakfast? Of course not. How about a mixture of sugar, refined flour and artificial colorings (some of which has been linked to irritability in kids)?
Well, that's pretty much what they get when you serve a cup of cereal formulated for and marketed to kids. With schools all over the country starting this week, and cereal being poured into the bowls of millions of schoolchildren, it's important to bring attention to what they're eating.
Many of these products are nutritionally worthless. Worse, a cup contains on average 2.6 teaspoons of sugar, comparable to a Hostess Twinkie or Chips Ahoy cookie. Environmental Working Group has a list of the top offenders by brand, and the results are not good.
Guidelines Proposed and Opposed. In 2011 the Interagency Working Group proposed preliminary voluntary guidelines for foods marketed to kids age 12 and under. These guidelines limit sugar (and salt) content and set minimum amounts of whole grain content. The American Cancer Society, American Dental Association, American Heart Association, Yale-Rudd Center for Food Policy and Obesity and American Academy of Pediatrics, among other groups, applaud the Working Group's proposals.
But despite the fact that the proposal calls for voluntary guidelines, food companies have united to oppose them, telling the Working Group to withdraw its proposal and lobbying Congress to allow the industry to continue to "self regulate." Undaunted, the Working Group has proposed revisions that also deal with distinguishing added sugars from those intrinsic in grains, reducing the amount of added vitamins and minerals used to "fortify" cereals, and beef up nutritional info on packages.
Healthier Alternatives. When time allows, oatmeal, eggs, protein smoothies and whole grain toast with peanut butter are all more nutritious breakfasts for kids, but there's no question that cold cereal is more convenient on weekday mornings. Obviously kids have opinions about which they'll they eat, but the cereal aisle does offer lot of choices that are relatively high in protein, contain whole grains for fiber and sustained energy and are low in sugar. Some options from major brands include Kellogg's Mini-Wheat Unfrosted Bite Size, General Mills Cheerios Original, General Mills Kix Original, Quaker Oats Oatmeal Squares Cinnamon, Post Bran Flakes, Post Honey Bunches of Oats with Vanilla Bunches and Kashi GoLean Crunch (Kashi Cinna-Raisin Crunch contains 13 grams of sugar, some from the raisins, but is somewhat offset by its 8 grams of fiber). Serve with low-fat milk, soymilk or coconut milk (not the kind in a can) and fresh fruit to start the day right.
Good Indicators. When considering a product, scan the ingredients list and Nutritional Facts panel for:
A short list of ingredients
At least 5 grams of protein per serving
Whole grains instead of refined or enriched grains
At least 3 grams of fiber per serving
Sugar in any form, including honey, maple syrup, corn sweetener, etc., listed low down on the list of ingredients
No artificial colorings
No marshmallows, chocolate, pieces of candy, etc.
There are ways to serve cereal without serving up an excessive amount of sugar, too.