Hungry Girl: Fashion-Inspired Food — A Feast for Your Eyes AND Mouth!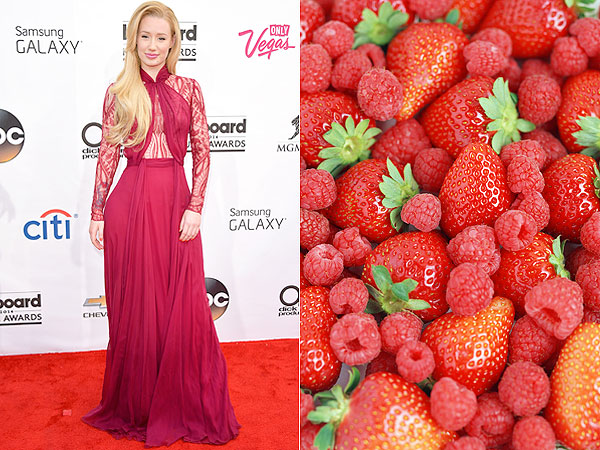 John Shearer/Invision/AP; Getty
Lisa Lillien is the author of the popular Hungry Girl website and email newsletter, featuring smart, funny advice on guilt-free eating. She is also the author of nine books, six of which debuted at number one on the New York Times Best Sellers list. Read her PEOPLE.com blog every Monday for slimmed-down celebrity recipes and more.

My inspiration comes from many places, and occasionally clothing worn by celebrities reminds me of delicious food items (Yeah, I'm a little weird, or, um, just food obsessed!). Here a few fun examples, plus awesome recipes!
The Look: Iggy Azalea's Ruby-Toned Gown
The Food: Raspberries and Strawberries!
That deep red color brings to mind some of my favorite fruits. I love raspberries and strawberries because they're not only insanely delicious, but they're also packed with fiber and other nutrients! And you don't need a recipe to enjoy 'em — just grab the ripest berries you can find!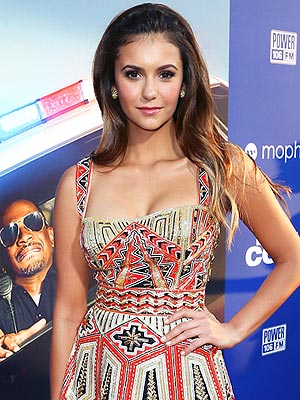 David Livingston/Getty
The Look: Nina Dobrev's Quirky Patterned Dress
The Food: Roasted Vegetable & Quinoa Stuffed Peppers
The red and earth tones make me think of this super-healthy recipe. It's all-natural and veggie friendly, but that doesn't mean it's boring! Plus, each stuffed pepper has just 180 calories — a nice li'l side dish.

The Look:
Jessica Alba's Army Green Jacket
The Food: Pom-Nom-Nom Kale Salad
That jacket = dark leafy greens! And since Jessica Alba is all about nutritious and natural eats, my brain goes straight to this kale and seaweed salad.  Get ready to love this salad as much as Jess loves that jacket.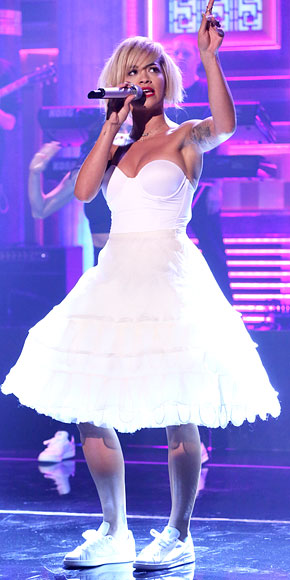 Nathaniel Chadwick/NBC/NBCU
The Look: Rita Ora's Adorable Fluffy White Ensemble
The Food: Coconut Cream Fluffcakes
Doesn't this outfit scream "CUPCAKE"? It does to me. And the lightest, fluffiest cakes in my arsenal are these babies, made with angel food cake mix and topped off with a mixture of whipped topping and marshmallow crème. Add in just enough coconut goodness, and you've got a tasty treat that might float away on a stiff breeze.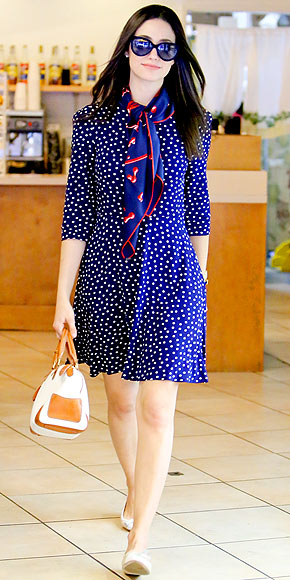 Fresh/INF
The Look: Emmy Rossum's Sweet Polka-Dotted Dress
The Food: True Blueberry Pie
This dress is as sweet and wholesome as a berry-packed slice of pie. The gorgeous blue hue, the scattered dots — I love it! And it gets me craving my blueberry pie recipe. (It doesn't really take much to do that.) Make it with fresh or frozen berries — it'll turn out great either way, and the frozen option is great for when the fruit isn't in season.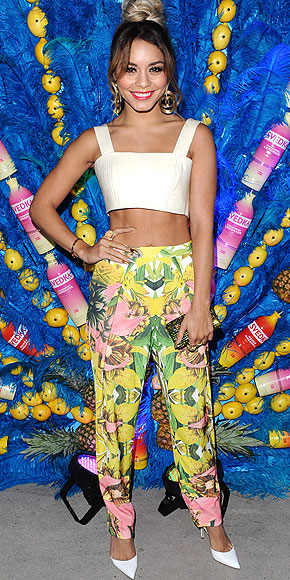 Michael Simon/Startraks
The Look: Vanessa Hudgens's Colorful Hawaiian-Print Pants
The Food: Low-Calorie Tropical Cocktails
Alright, I'm bucking the trend by going with a sippable option, but those super-fun pants have me craving a fruity drink garnished with a paper umbrella STAT. The only question left is which drink to start with — my pick is either a Tequila Sunrise or Sunset.
'Til next time… Chew the right thing!