Inside Lea Michele's Cozy Birthday Dinner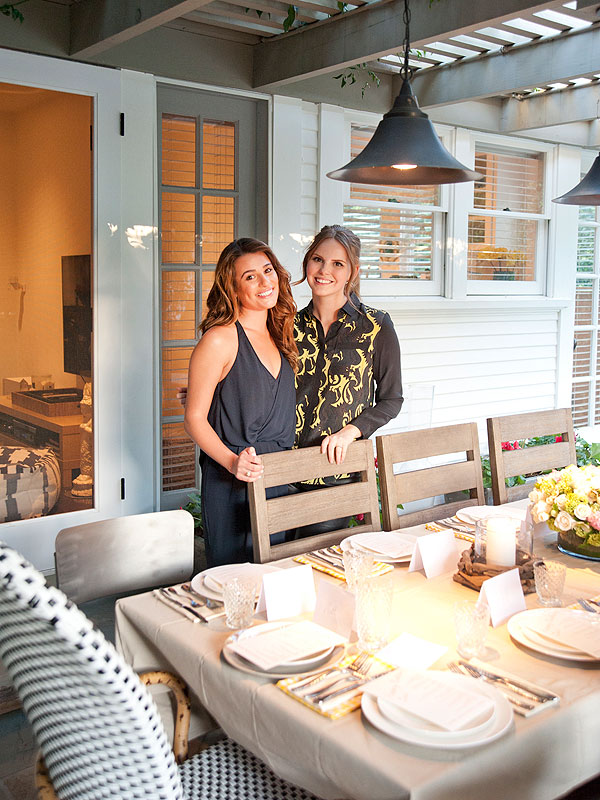 Courtesy Claire Thomas for The Kitchy Kitchen
Lea Michele didn't need a Birkin bag cake or a baking therapy session to enjoy her birthday: A relaxed dinner with girlfriends at her home was the perfect fête for the Glee star, who turned 28 on August 29.

To help with the plan, Michele turned to chef and cookbook author Claire Thomas of The Kitchy Kitchen in Los Angeles to create a custom menu of seven different dishes. On the lineup were two decadent takes on burrata (it was used in both salad and lasagna), a Brie-cauliflower soup and a devil's food cake decked out with sparkler candles.
"So much fun with the most amazing friends and such delicious food! What an amazing birthday!" the actress gushed of the set table:
Because it's really not a girls' night in until you have a girly, fruity, cocktail, Thomas whipped up some sangria made with white wine and a fruity rose syrup: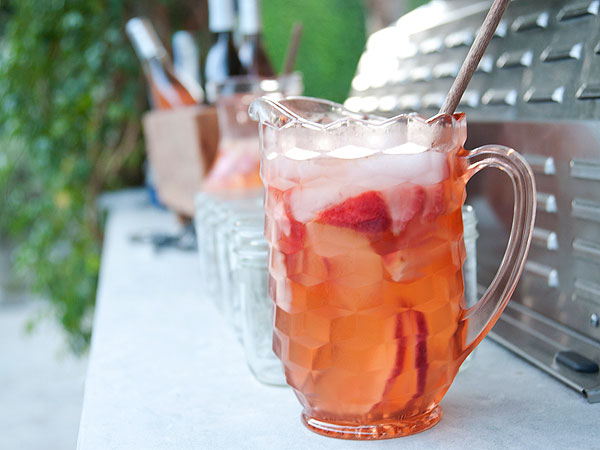 Courtesy Claire Thomas for The Kitchy Kitchen
We wish we could jump into the shot of this appetizer platter of luscious-looking burrata that's paired with summer standouts like nectarines, arugula and mint: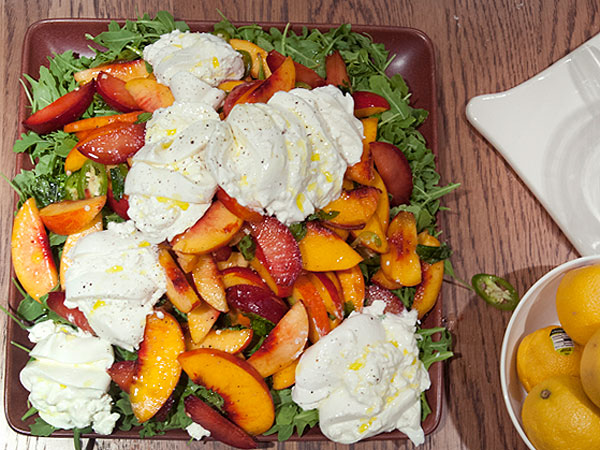 Courtesy Claire Thomas for The Kitchy Kitchen
Thomas posted this shot while she was prepping the lasagna, which was one of the two main dishes — it's the best use of burrata we've seen in a while:
Click HERE for the burrata roasted tomato lasagna recipe!
Michele gave the kale salad the classic social media seal of approval ("#yum" she wrote) — it's pictured with one of the low, casually chic rose-studded centerpieces that coordinates well with the mason-jar glasses:
And when you have a cake this decadent, the only adornment needed is a set of festive sparkler candles:
Click HERE for the devil's food cake recipe!
Finally, for those of you who love to obsess over (er, ponder) a good menu, the full details are below: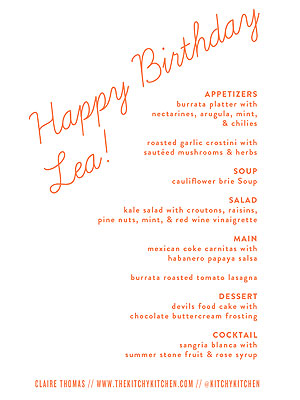 Courtesy Claire Thomas for The Kitchy Kitchen
And though Michele tends to be quite health-conscious (her Instagram feed is packed with photos of virtuous choices like avocado toast from Gwyneth Paltrow's cookbook and kombucha), Thomas did send an indulgent birthday wish via Instagram: "I hope you had a fabulous birthday & had a slice of cake for breakfast," she wrote on a shot of herself with the actress.
—Lexi Dwyer