Hungry Girl: A Spicy Mac & Cheese That Won't Ruin Your Healthy Diet!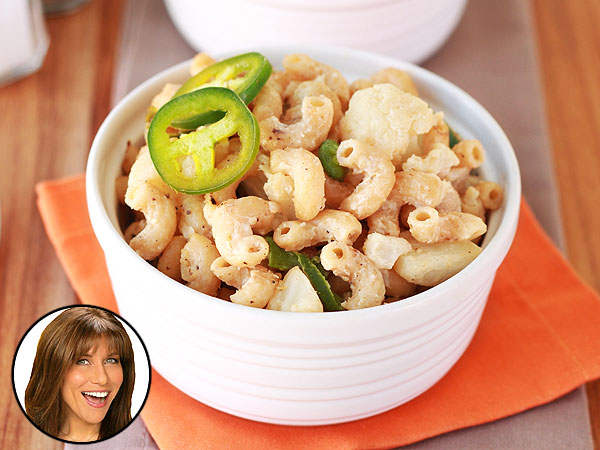 Courtesy Hungry Girl
Lisa Lillien is the author of the popular Hungry Girl website and email newsletter, featuring smart, funny advice on guilt-free eating. She is also the author of nine books, six of which debuted at number one on the New York Times Best Sellers list. Read her PEOPLE.com blog every Monday for slimmed-down celebrity recipes and more.

Piper Perabo is one of those actresses who pops up all over the place, from film to TV to Broadway plays. But the first time you saw her was probably as a bar-dancing, aspiring songwriter in Coyote Ugly. These days, you can catch her on USA Network's Covert Affairs as CIA operative Annie Walker. (I assume there's a lot less bar dancing on that show.) She also happens to be the part-owner of the restaurant Jack's Wife Freda in SoHo, which brings us to the dish du jour, from the menu of that very restaurant.
While I love a good bowl of cheesy pasta, I don't exactly feel like getting up and dancing on the bar after eating one. (Not that I would do this anyway. Yikes! This is how rumors get started.)
If you're looking for a lighter alternative to this spicy, starchy dish, I've got one. Mine is loaded up with extra veggies, and the sauce is made from reduced-fat cheeses. Don't worry, it's made with real pasta and plenty of spicy peppers… YUM!
'Til next time… Chew the right thing!
Hungry Girl's Spiced-Up Cheesy Mac
Makes 4 servings
3 cups frozen cauliflower florets
4 ½ oz. (about 1 1/4 cups) uncooked high-fiber elbow macaroni
¼ cup thinly sliced jalapeño, seeds removed, plus more for garnish
1 tbsp. chopped garlic
4 wedges The Laughing Cow Light Creamy Swiss cheese
2 slices reduced-fat Swiss cheese
¼ tsp. each salt and black pepper
1. Place cauliflower in a large microwave-safe bowl; cover and microwave for 3 minutes. Uncover and stir. Re-cover and microwave for 2 – 3 minutes, until hot. Drain excess liquid. Roughly chop cauliflower, return to the bowl, cover to keep warm.
2. In a medium-large pot, cook pasta per package instructions, about 8 minutes. Drain pasta, and stir into cauliflower. Cover to keep warm.
3. If needed, clean pot. Spray with nonstick spray, and bring to medium-high heat. Cook and stir jalapeño for 2 minutes.
4. Reduce heat to medium-low. Add garlic, and cook and stir until jalapeño and garlic are lightly browned, about 1 minute.
5. Reduce heat to low. Add pasta-cauliflower mixture, cheese wedges, cheese slices, salt, and pepper, breaking the wedges and slices into pieces. Cook and stir until cheeses have melted, mixed, and coated pasta and cauliflower, about 3 minutes.
6. Serve and enjoy!
One serving (about 1¼ cups): 200 calories, 4g fat, 419mg sodium, 30g carbs, 5g fiber, 4.5g sugars, 11g protein