Kaley Cuoco Throws Another Gorgeous, Wish-We-Were-There Party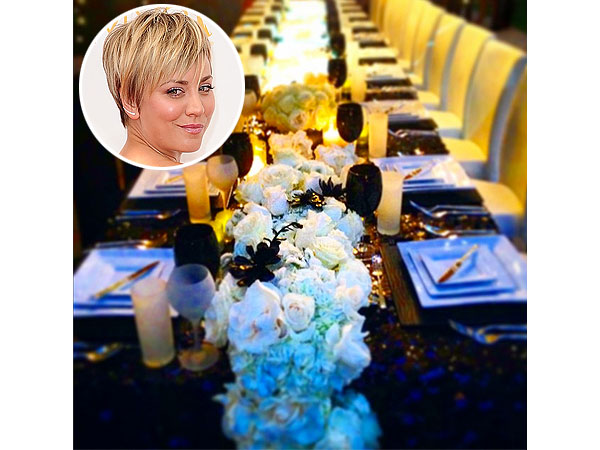 Courtesy Lauren Tatum
In our next life, we want to come back as someone who works for Kaley Cuoco: The Big Bang Theory actress recently hosted yet another of her signature lavish parties, this time to honor the members of her team.

"This was a party for people Kaley has worked with for many, many years," Los Angleles event designer Lauren Tatum told PEOPLE in an exclusive interview. Tatum described the 20-person seated dinner as "sweet and intimate," and called it "a black-and-white themed party with beautiful food and music and plenty of lovely toasts."
As for the menu, the night started with bites of brie and white chocolate puff pastry pillows and tandoori chicken satay with garlic yogurt dipping sauce. For dinner, guests feasted on dishes like wine-braised short ribs, white cheddar mashed potatoes and cheese poufs with salted honey butter — all made by Meg Hall, who also handled the food for Cuoco and husband Ryan Sweeting's New Year's Eve wedding reception.
And let's not forget dessert: Guests sampled French vanilla and violet cassis macarons and salted peanut butter brownies. "Kaley always likes to have gluten-free options for guests, so the Brazilian cheese poofs and French macarons fit right in," Hall tells PEOPLE. During the meal, R&B duo Aragorn & Olivia performed mellow, jazzy music.
The party featured two bars — one with a cityscape backdrop and bartenders serving festive custom cocktails:
The actress might not have suspended a wedding cake from the ceiling as she did for her own nuptials, but there were still plenty of other fun touches that we're sure had guests talking.
Like how instead of tablecloths or runners, they had movies shown from above, as this video shows:
Tatum told PEOPLE that the idea to project dance clips from old movies was "my surprise to [Kaley]." How did she pull it off? Two projectors were propped on an awning above the table and showed overlapping images.
And since the theme of the night was gratitude for Cuoco's staffers, Tatum had this phrase projected down into the pool:
But Cuoco's parting gifts spoke even louder than those elegant words. She sent each guy home with a pocket square that said "Life Is Sweeting," while the women received personalized Tiffany business card cases. Here's a shot of a case from Hall, who wrote to Cuoco in her caption, "You brought tears to my eyes."
—Lexi Dwyer