Bakerella's Secret-Ingredient Sugar Cookies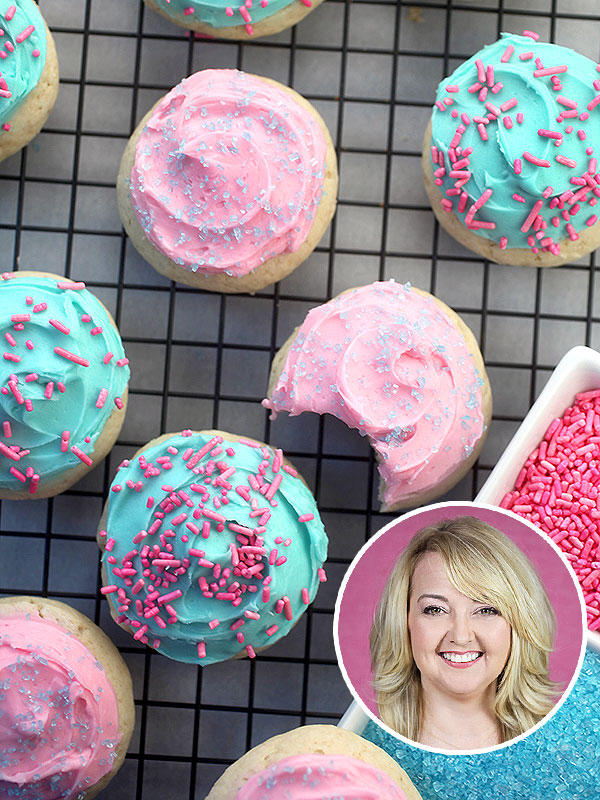 Courtesy Bakerella
Angie Dudley, a.k.a Bakerella is the author of the New York Times Best Selling book, Cake Pops and creator of Bakerella.com. Visit PEOPLE.com on Fridays for her dish on desserts.
Sugar cookies are one of my favorites. I like them plain, beautifully decorated with royal icing or simply covered in a layer of frosting like these. And topped with sprinkles, they remind me of the kind of cookies I would see in the bakery aisle when I was a child. I love how pretty they can look with minimal effort.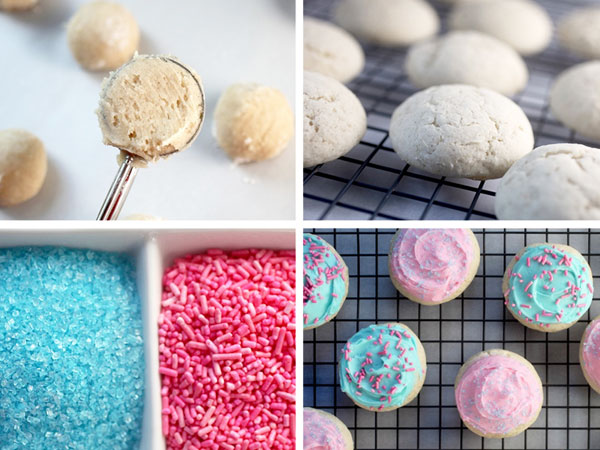 Courtesy Bakerella
These sugar cookies are made with sour cream and the cookie dough leans a little more to the side of batter than normal sugar cookie dough. Use a scoop to easily portion the sugar cookies into equal sizes on a parchment paper lined baking sheet and pop in the oven. They'll bake into puffy little cookie clouds.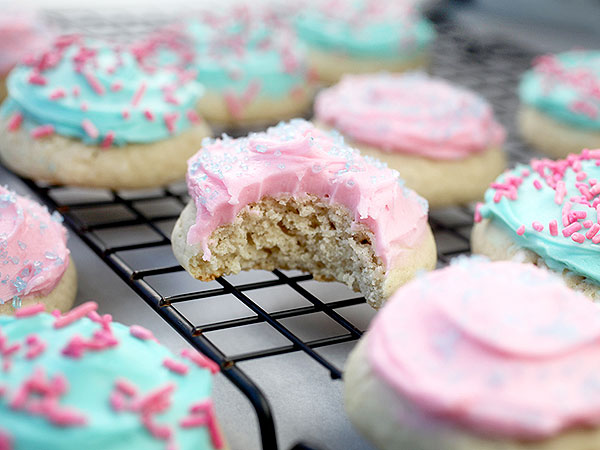 Courtesy Bakerella
And, they'll make you want to sink your teeth right in.
Soft Sugar Cookies
Makes 30 cookies

4½ cups all-purpose flour
¾ teaspoon baking powder
¾ teaspoon baking soda
¼ teaspoon salt
¾ cup unsalted butter
1⅔ cups granulated sugar
2 eggs
1 cup sour cream
1½ teaspoons vanilla
Frosting
1 cup butter
1 teaspoon vanilla
3 cups powdered sugar
1-2 tablespoons milk
Icing colors
Sprinkles
1. Line baking sheet with parchment paper and preheat oven to 350 degrees Fahrenheit.
2. In a large bowl, whisk together flour, baking powder, baking soda and salt. Set aside.
3. Cream butter and sugar in a mixer until light and fluffy.
4. Add eggs one at a time, mixing until combined. Add sour cream and vanilla and mix until combined.
5. Slowly add dry ingredients to the wet ingredients and mix until combined.
6. Scoop dough onto prepared baking sheet and bake for 10–12 minutes.
7. Cool completely and decorate with frosting and sprinkles.
8. For frosting: Beat butter and vanilla using a mixer until creamy and smooth. Gradually add powdered sugar mixing until combined. Add milk and continue mix until combined. Tint icing and mix thoroughly. Decorate tops of cookies with frosting and sprinkles.