VIDEO: Jimmy Kimmel Imagines the Pumpkin-Spiced iPhone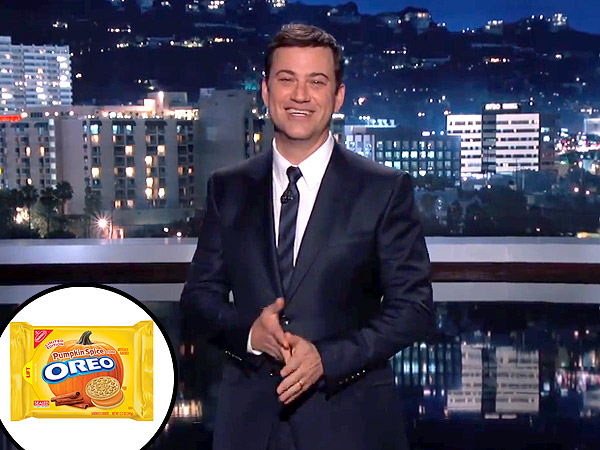 Inset: Courtesy Oreo
Jimmy Kimmel can't seem to get enough of the timely food jokes this week: Thursday night he took on the ever-present pumpkin spice flavor.

"Pumpkin spice must have the best PR person in the world because it has squirreled its way into everything," the Jimmy Kimmel Live host quipped, mentioning examples such as Pumpkin Spice Oreos ("They're tan on the top and orange in the middle, like Hooters girls, really"), pumpkin shampoo, pumpkin bagel chips and, of course, pumpkin-spiced coffee.
"We don't have weather here [in Los Angeles] so the only way we know what season it is is by how our coffee is flavored," he added.
As he did with his ALS Pasta Challenge, he found a way to tie in another trending topic: "I'm surprised they aren't coming out with a pumpkin-spiced iPhone 6," he said.
At this point, Guillermo runs out, holding an iPhone, with an important announcement:  "Jimmy, Jimmy, big news! They just came out with a pumpkin spiced iPhone 6!"
The crowd obviously loved it, but Kimmel didn't seem satisfied. "Go back out and try it again," he says, presumably so Guillermo will be even more enthusiastic.
The pair repeated their bit (Kimmel wonders aloud, Guillermo runs back in) to more laughs. "That was a lot better … I wonder how many times in a row we can do that," Kimmel said.
—Lexi Dwyer