Derek Jeter Eats These Buttermilk Pancakes Every Morning Before a Game — Get His Recipe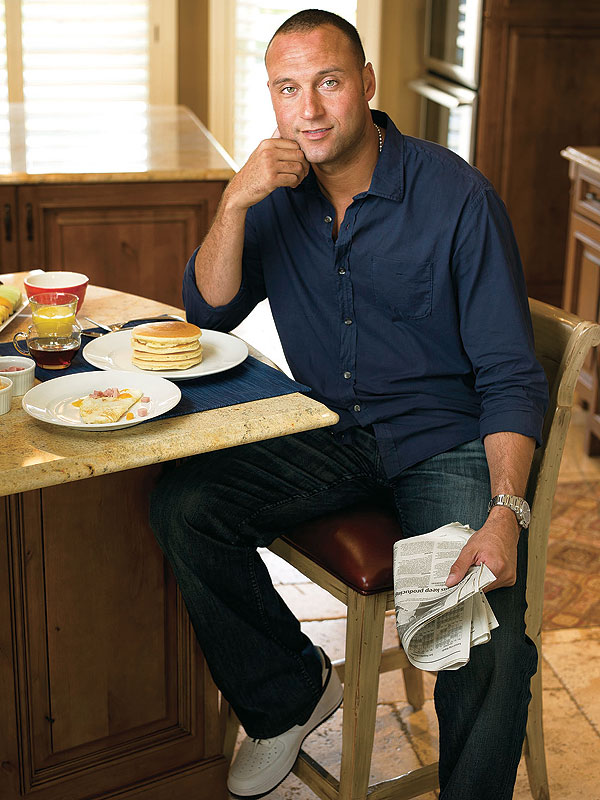 E.J. Camp
Rather than beer or multiple rounds of cocktails, Yankee fans distraught over Derek Jeter's imminent retirement can now drown their sorrows in something else: the shortstop's favorite buttermilk pancakes.

PEOPLE got the scoop from Julie Loria, author of Diamond Dishes: From the Kitchens of Baseball's Biggest Stars, who writes in her book: "Jeter, like many players, eats the same kind of breakfast every game day. And like many professional athletes, he assuredly claims that this is just a preferred routine, not a superstition. 'Every morning before a game I eat pancakes and an omelet,' says Jeter. Specifically, his pancakes are always plain with syrup and no butter."
We're guessing Jeter adds the omelet, which Loria says is made with egg whites, to give him the protein boost needed to make him do things like set records for hits, stolen bases and at-bats. (His preferred fillings include lean ham, a scant ounce of cheese and veggies like broccoli and bell peppers.)
We scored the pancake recipe, which contains separated eggs to increase its fluffiness factor and has a generous yield that even a professional athlete would have trouble finishing. But Loria has a smart timesaving tip for getting your flapjack fix multiple mornings in a row: Refrigerate extra batter in an airtight container, then thin it with milk before reusing it the next day. (Busy parents, take note.)
Of course, now that Jeter is retiring, he'll have time to hone his breakfast skills even more: If Hannah Davis is lucky, maybe he'll start experimenting with pancake art.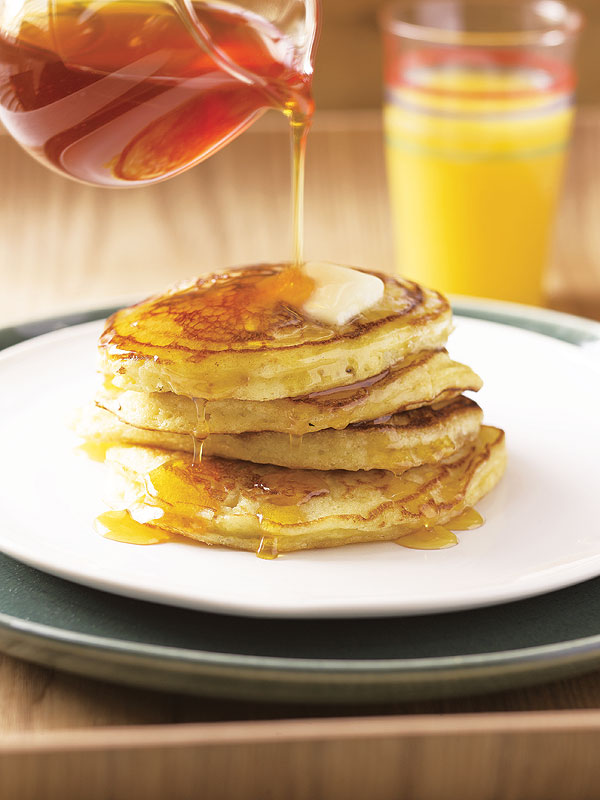 Ben Fink
Derek Jeter's Buttermilk Pancakes
Makes 15 pancakes
2 cups all-purpose flour
3 tbsp. sugar
2 tsp. baking powder
1 tsp. baking soda
½ tsp. salt
2 ½ cups buttermilk
3 large eggs, separated, at room temperature
3 tbsp. unsalted butter, melted
Vegetable oil, for the griddle
Pure maple syrup and unsalted butter, for serving
1. Heat a griddle or large nonstick skillet over medium-high heat. Position a rack in the center of the oven and preheat to 200°F.
2. Sift the flour, sugar, baking powder, baking soda, and salt together into a large bowl. Add the buttermilk, egg yolks, and melted butter and stir just until the dry ingredients are moistened—the batter should be very lumpy.
3. Beat the egg whites in a medium bowl with an electric mixer on high speed until they form soft peaks. Using a rubber spatula, fold the whites into the batter just until combined—the batter should not be completely smooth.
4. Check the griddle's heat: Flick cold water from your fingers onto the griddle. The drops should form tiny, skittering balls. If not, increase the heat and heat the griddle for a minute or so longer. Lightly oil the griddle. Using about one-third of a cup of batter for each pancake, pour the batter onto the griddle. Cook until the pancakes' undersides are golden brown, about 1 ½ minutes.
5. Turn the pancakes and cook until the other sides are browned, about 1 minute more. Adjust the heat as needed, so the pancakes don't brown too quickly. Transfer cooked pancakes to a baking sheet and keep warm in the oven while making the remaining pancakes.
6. Serve pancakes hot, with the maple syrup and butter.
—Lexi Dwyer