Hungry Girl: The Must-Eat Foods This Fall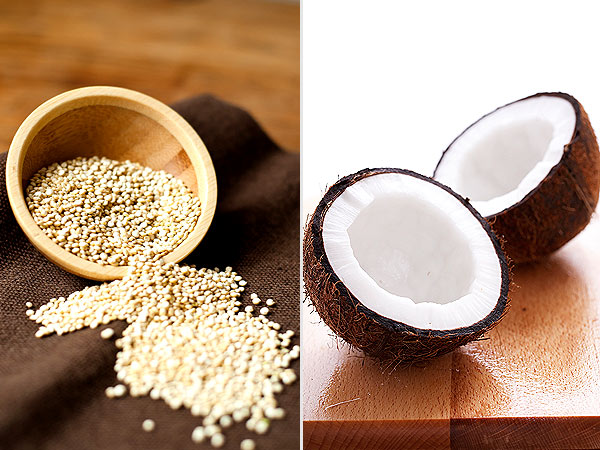 Getty
Lisa Lillien is the author of the popular Hungry Girl website and email newsletter, featuring smart, funny advice on guilt-free eating. She is also the author of nine books, six of which debuted at number one on the New York Times Best Sellers list. Read her PEOPLE.com blog every Monday for slimmed-down celebrity recipes and more.

Forget about bacon and Nutella. When it comes to what the cool kids are eating these days, these food trends are all over the place!
Sriracha
Sriracha is THE flavor du jour. The rooster-emblazoned bottles have spawned many imitations. But better than that, they've inspired a ton of other foods to pick up on the spicy, sweet, garlicky flavor: mustard, jerky, even popcorn! I love adding heat to my food. It not only tastes good, but the spicy zip also helps keep me from eating too quickly and makes me drink more water — both of which are great for weight management.
Coconut
Could coconut be any hotter? Coconut water has been a hit for a while now — the stuff by Harmless Harvest is a favorite of mine; Victoria's Secret model Behati Prinsloo is also a fan. And people love using coconut oil for cooking and for beauty; I'm pretty excited to see that Pam has a coconut oil spray now. (Um, for cooking, not for spraying on my skin.) But one of my favorite ingredients is the So Delicious Unsweetened Coconut Milk Beverage — in Original and Vanilla, it's incredibly creamy, with only 45 calories per cup. It's fantastic in smoothies, coffee drinks and cocktails. P.S. If you haven't heard about coconut bacon yet, it's totally a thing!
Quinoa
You may have thought that quinoa was a passing fad, but it's not going anywhere. Mostly because it's GREAT for you; the grain is packed with protein. If you want a super-simple fix, grab a box of MorningStar Farms Roasted Garlic and Quinoa Burgers. Quinoa is also really easy to cook — just try these recipes: Molly Sims's Carrot Quinoa Salad, Veggie-Quinoa Mega Bowl and Diane von Furstenberg's Green Apple & Macadamia Quinoa
Chia
When Jay-Z and Beyoncé went vegan, day one of their diet started with vanilla chia pudding. Don't be put off by memories of spreading the seeds on terra-cotta "pets" — chia is a nutritional dynamo! It's crammed with fiber, protein, calcium, omega-3 fatty acids and more. The people at Health Warrior make some very yummy chia-based bars (the coconut one is crazy delicious — and that's two trends in one!), and Kashi's Chewy Granola Bars with Chia also rock. A few more options? The bottled Drink Chia beverages, and Lesser Evil's chia-dusted popcorn and chips.
Stevia
Finally, I love to cut calories anywhere I can — it helps me to maximize my serving sizes, which is crucial since I'm, you know, HUNGRY GIRL. No-calorie sweeteners are a staple for me, and natural versions made with stevia are getting more and more popular. In terms of what you can buy plain, Truvia, Pure Via, and Stevia In The Raw are pretty easy to find. A lot of drinks are being sweetened with stevia these days too— I'm a fan of Blue Sky Zero soda and Vitaminwater Zero. Truvia
'Til next time… Chew the right thing!