Cook this Now! Alex Guarnaschelli's Perfect Steak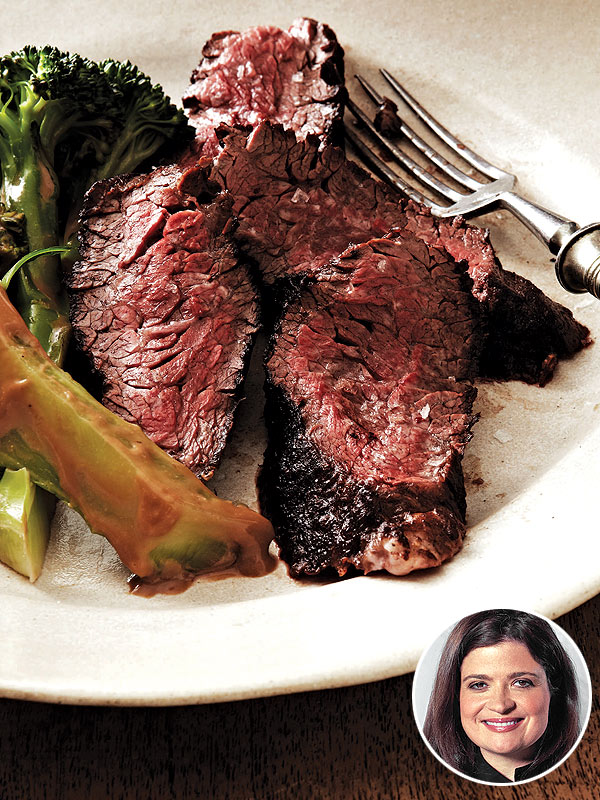 Courtesy Alex Guarnaschelli
Alex Guarnaschelli is an Iron Chef, Food Network celebrity chef, author of Old-School Comfort Food and the executive chef at New York City's Butter restaurants. Read her PEOPLE.com blog every Tuesday to get her professional cooking tips, family-favorite recipes and personal stories of working in front of the camera and behind the kitchen doors. Follow her on Twitter at @guarnaschelli.

My dad used to heat a sauté pan so hot that I thought the handle would fall right off. He would put it on the burner and leave it there, over low heat, for about 15–20 minutes. While a completely silent process, I remember feeling as if the pan was "screaming" hot. He would calmly season the steak with salt and black pepper on both sides, shut off the heat under the pan and gently drop it in.
We would have a ribeye every once in a while, but my dad is a London broil and hanger steak guy. Those cuts, while not the most tender, are so delicious when seared over high heat and sliced against their "grain" to increase tenderness. And, while all beef is expensive, hanger and London broil are more affordable.
To go with my steak, I love a simple little sauce — made right in the same pan — with any drippings from the cooking stirred together and poured over the steak. These are the kinds of recipes that don't require a lot of ingredients but really resonate with people.
It's also a "one pan" meal, which I like. It's amazing how spoiled I get having a dishwasher at the restaurant. When cooking at home for my hungry daughter, I try my best to make tasty food and keep the dish washing to a minimum. My dad once told me that his parents would have guests over for dinner and his mother would spend the whole night cooking and cleaning. By the time she came out of the kitchen, her guests would be ready to leave!
I'd rather cook something great and then spend my time eating it with my daughter or friends. I'd imagine you feel the same way. You want that kind of dish where someone takes a bite and stops for a minute to look down at the food and then up at you. Because it tastes so good.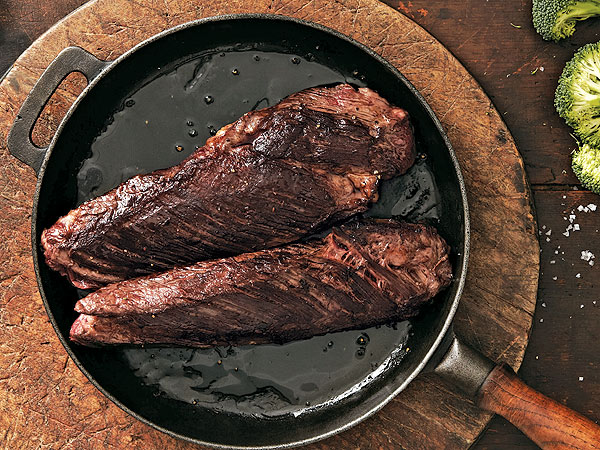 Courtesy Alex Guarnaschelli
The Perfect Steak
1 to 1½ pound hanger steak, trimmed
1 small red onion, minced
2 tbsp. Dijon mustard
1 tsp. lemon juice plus 2 teaspoons lemon zest
2 tbsp. Worcestershire sauce
2 tbsp. chopped parsley
Cook the steak: Heat a cast iron skillet large enough to hold the steak until it begins to visibly smoke. Use a kitchen towel to "blot" any excess moisture from both sides of the steak and season both sides with salt and pepper. Shut the heat off underneath the skillet and use a pair of tongs to place the steak squarely in the dry pan. Raise the heat high and brown on the first side, 3–5 minutes. Resist the temptation to move it as it cooks. It has to form that crust we love so much! Turn it on its second side and brown, without touching it, an additional 3–5 minutes. Lower the heat and cook for an additional 5–8 minutes, depending on how well done you like your meat. Remove the steak from the pan and set aside 10 minutes to "rest." Slice against the grain of the meat.
For the sauce: Pour out most of the excess grease from the pan and add the red onion. Season with salt and cook over medium heat, 3–5 minutes. Stir in the mustard, lemon juice and zest, Worcestershire and parsley. Stir. Taste. Pour over the sliced steak. Enjoy!
I get so many questions about knowing when a steak is "done". It's a tough call because every cut and piece of meat is different. The simplest way to check for doneness is to make a small incision in the thickest part of the steak. It should be a little less cooked than you would like to allow for "carry over" cooking. If using a meat thermometer, rare registers between 125–130 degrees Fahrenheit. For medium rare, 130—135 degrees Fahrenheit and between 135—140 degrees Fahrenheit for medium.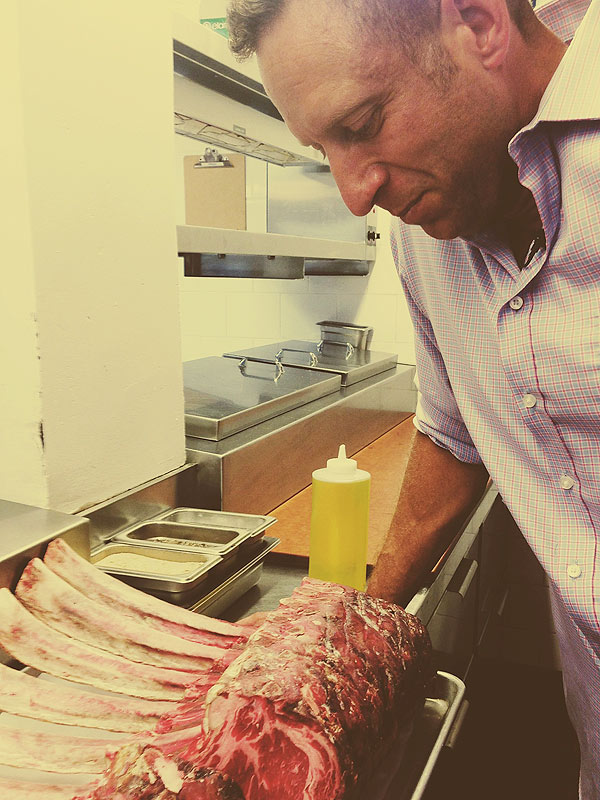 Courtesy Alex Guarnaschelli

While I know it can be hard to develop a personal relationship with a butcher when shopping at the supermarket — try! There are people that cut meat in most supermarkets. If you ask questions about what is good to buy, you can buy more wisely. I have known my butcher, Pat LaFrieda (that's him above), and his family, for a number of years. I call to ask him when a good time is to buy beef and what cuts to cook for when. He has been an invaluable resource for me as a chef. I am always learning something new when talking meat with him. Building a connection has, in my case, really informed my spending and the products I cook. Give it a try!