Hungry Girl: Restaurant-Sized Meatballs That Won't Derail Your Diet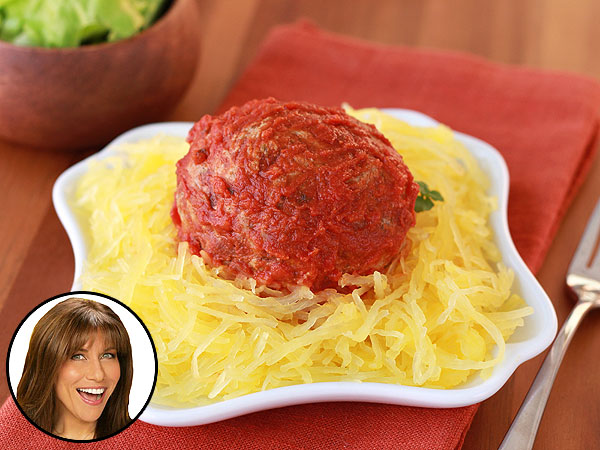 Courtesy Hungry Girl
Lisa Lillien is the author of the popular Hungry Girl website and email newsletter, featuring smart, funny advice on guilt-free eating. She is also the author of nine books, six of which debuted at number one on the New York Times Best Sellers list. Read her PEOPLE.com blog every Monday for slimmed-down celebrity recipes and more.

These days, Sofia Vergara's favorite beefcake may be Joe Manganiello (of Magic Mike and True Blood fame). But when dinner rolls around, the four-time Emmy and Golden Globe nominee is a big fan of the enormous meatballs found at Buca di Beppo. Family-style eats for the Modern Family star? Makes sense to me!
I love saucy, savory Italian food, so I decided that Buca's meatballs needed a makeover. Sure, they're tasty, but why not slash some calories and fat?
I knew I could make 'em delicious with extra-lean ground beef and the right flavorful ingredients. My meatballs are large and in charge. And they're completely guilt-free!
'Til next time… Chew the right thing!
Hungry Girl's Ginormous Italian-Style Meatballs
Makes 4 servings
1 lb. extra-lean ground beef (4% fat or less)
¼ cup fat-free liquid egg substitute
2 tbsp. grated Parmesan cheese
1 tbsp. Italian seasoning
¼ tsp. each salt and black pepper
¼ tsp. onion powder
¼ tsp. garlic powder
1 cup low-fat marinara sauce
1. Preheat oven to 350 degrees. Spray an 8-inch by 8-inch baking pan with nonstick spray.
2. In a large bowl, combine all ingredients except marinara sauce. Mix thoroughly.
3. Firmly and evenly form into 4 large meatballs.
4. Place meatballs in the baking pan, and evenly top with marinara sauce.
5. Cover pan with foil, and bake for 20 minutes.
6. Remove foil, and flip meatballs. Bake until cooked through, about 20 minutes. Enjoy!
*For an even healthier option, serve over spaghetti squash.
One serving (1 meatball with 1/4 cup sauce): 208 calories, 7g fat, 520mg sodium, 6.5g carbs, 1.5g fiber, 4g sugars, 28g protein