What's Your State's Most Unusual Food Topic? Twitter Posts Show the Answer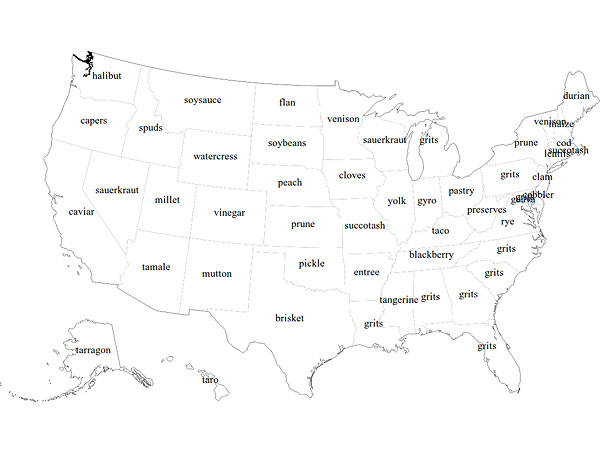 Courtesy Fried, D., Surdeanu, M., Kobourov, S., Hingle, M., and Bell, D.
If you've got a serious eating and Tweeting habit (who, us?), research scientists might want to know about it.

After tackling the Herculean task of analyzing more than three million food Tweets, the authors of a new study at the University of Arizona were able to figure out some fun factoids about eating across the country.
The map above shows the most unusual food-related term that popped up for each state. "A common misinterpretation is that these are the most popular terms per state, but they are not—they are the most distinctive terms," Mihai Surdeanu, one of the study's authors, tells PEOPLE. "For example, 'cheese' may be popular in many states, but not distinctive in any," he said.
Some, like caviar for California and cloves in Iowa seem surprising. But it was hardly a shock to learn that Texans were posting about brisket, Idaho residents about spuds and Arizonans about tamales. Another thing to note: the word "prune" popped out in both Kansas and New York, but in both cases it refers to restaurants with that name—not the fiber-rich dried plum.
In the study, the authors noted that they saw preferences for meal hashtags, which are outlined in this graphic: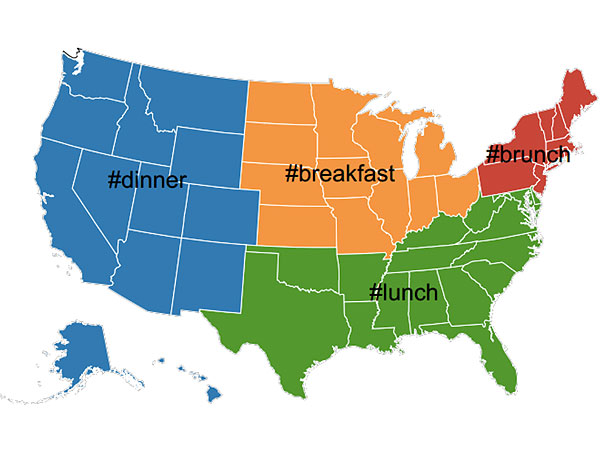 Courtesy Fried, D., Surdeanu, M., Kobourov, S., Hingle, M., and Bell, D.
On table that mentioned other popular regional topics we couldn't help chuckle at this eerily accurate statement about The Big Apple: "Brunch and mixed drinks are important features in the Northeast, likely because they were also highly weighted features for New York City, and New York City produced many of the tweets in this region." With regards to the left coast, they wrote, "The West is a mixture of features that were important for California, such as #foodporn and #vegan …"
Although the study is fun to talk about, it's also part of a bigger picture: helping people get healthy. The authors were able to predict overweight and diabetic rates for adults using information they pulled from the Tweets. "The idea is to detect people at risk for diabetes using social media and then gently nudge them towards a better lifestyle. The latter part we haven't tackled yet, and it is unclear what is the best solution. Targeted ads are certainly a possibility," Surdeanu tells PEOPLE.
So watch out: If you Tweet too much about your need for hangover-curing food, you might find yourself getting served with ads for the American Nutrition Association.
—Lexi Dwyer