Carla Hall Launches Kickstarter Campaign to Fund Her First N.Y.C. Restaurant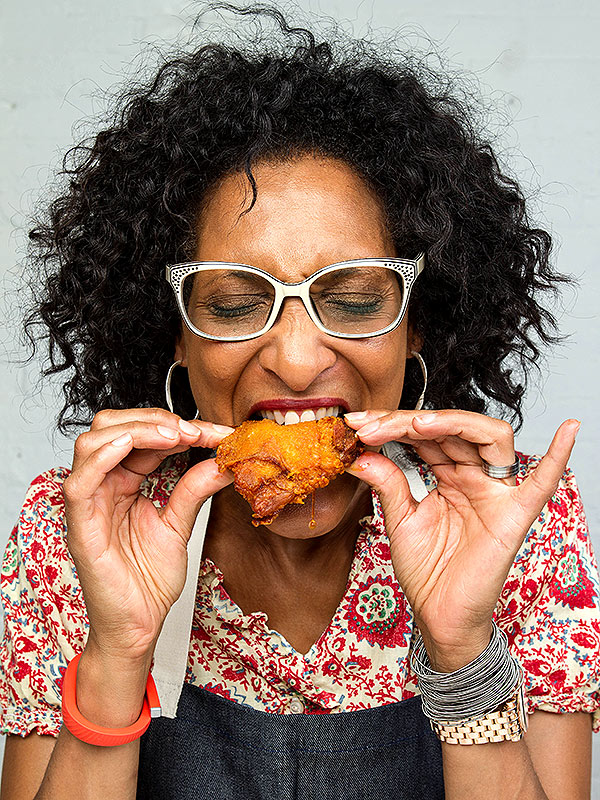 Tristan Mosser
Hootie hoo! Carla Hall announced on Wednesday morning that she's planning to open her first restaurant in New York City — and, in a somewhat surprising twist, is hoping fans will help fund it through Kickstarter.

The current host of The Chew and former Top Chef contestant is planning to open Carla Hall's Southern Kitchen, which will focus on Nashville hot chicken, which Hall says in her Kickstarter video will be "fried in a cast iron skillet, tossed in cayenne paste and served on white bread with a dill pickle on top."
Along with her signature chicken, she's planning sides like baked mac and cheese, skillet cornbread and braised collard greens. (You can view the full menu here, via The Washington Post.) In an exclusive interview, Hall tells PEOPLE that she's planning to make all side dishes without meat. "People have a negative connotation about Southern food, they think it's not healthy, and I want to debunk that myth. Am I calling it 'health food?' No, but it's going to be a lighter version of what you think you know about Southern food," she said, adding that there will be roast chicken option along with the fried one.
Hall has set a goal to raise $250,000 by October 29 to help build the restaurant's kitchen. As with most Kickstarter campaigns, donors will be offered a range of incentives, starting with recipe downloads for $1 donations and, at the $10,000 level, the chance to spend a day cooking with Hall. The chef is also offering everyone who gives at least $25 the chance to have their name on the New York restaurant's Founders' Wall, as well as on similar walls in future restaurants (she's hoping to one day go nationwide). "Kickstarter is a great marketing tool but I also needed the confirmation that this is something I'm in with other people, that they really want the restaurant. I want them to vote with their dollars," Hall says.
In the video, Hall shows off her effusive, down-to-earth personality that's won her plenty of loyal fans. "This is my hot chicken face. Anybody who's had hot chicken has a hot chicken face," she says after biting into a piece, scrunching her features into a look that's a cross between looking utterly satisfied but also bracing herself (presumably against the intense spice).
Hall also said in the interview that although no location has been confirmed, it's likely the restaurant will be somewhere in Manhattan. "I have an apartment on the Upper West Side and for practical reasons I want to be able to get to it easily, even if it's just driving by, otherwise I'm going to be miserable," she told PEOPLE.
At the end of the video, Hall explained another reason behind her New York aspirations. "These people are running from house to subway to work to subway to house, you know? I just want to give them a warm, comfy spot to escape," she says, dodging commuters outside Grand Central Terminal.
—Lexi Dwyer