Vampires, Beware! Alie & Georgia Have 4 Ways to Get the Most of Your Garlic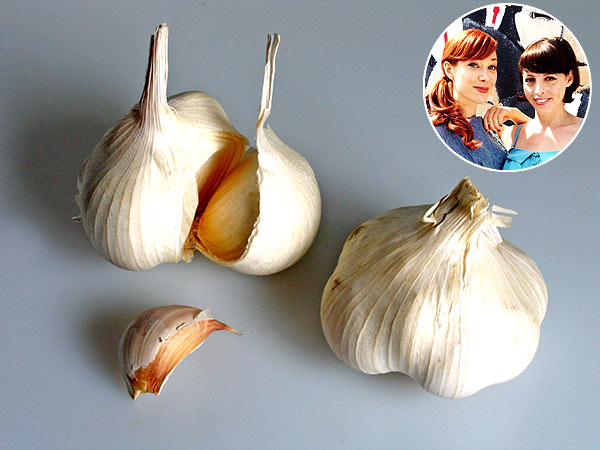 Getty/Courtesy Alie & Georgia
Alie Ward and Georgia Hardstark, a.k.a. Alie & Georgia, host Cooking Channel food-travel series Tripping Out with Alie & Georgia. Visit PEOPLE.com every Thursday for their playful spins on celebrity recipes, cocktails, entertaining ideas—and, of course, lots of laughs!

Vampires are here to stay (and not just because they are technically undead), and there is a lot to be jealous of when it comes to these caped creatures. They have beautiful porcelain skin (that sometimes sparkles), a killer set of fangs and get to turn into bats and fly around at night. What a life!
But, alas, we wouldn't trade places with them, solely based on the fact that they're deathly allergic to one of our very favorite ingredients. Yep, we're talking about that seasoning of the gods, that fetching clove — garlic!
And while we all know (and love) about adding a couple of chopped cloves in our sauces and stews, there is so much more that can be done with garlic. We've listed some of our favorite alternative uses of that beautiful bulb, so you can put them to good use, instead of using them to chuck at your local blood sucker.

Roast It!
Slice the top off an entire bulb of garlic, place it in a tinfoil pocket, drizzle with oil olive and a crack of fresh black pepper, then place in the oven to cook alongside your roast. After about 40 minutes at 400 degrees Fahrenheit, the garlic will caramelize and soften enough to be spread over a crusty hunk of French bread. All the spice and bite of a raw clove is gone, and in its place is a slightly sweet umami deliciousness.
Plant It!
For anti-green-thumbs like us, a garlic plant is a hearty way to look like you don't kill plants on the regular. It can be grown year round in mild climates (sorry, Midwesterners) and only needs one clove planted in soil to sprout. Plus the stalks that grow can be eaten just like scallions. Yum!
Vodka It!
This is what's known in the cocktail world as "infusion," which we insist is just a fancy way of saying "take something and put something else in it." Garlic-infused vodka is a great base for a savory cocktail, and can be sipped on its own to ward off a cold. Simply place 3–4 cloves of garlic in a mason jar filled with 1 pint of vodka, then let sit overnight (or up to 3 days, if you're crazy about garlic). Give it a shot as a Bloody Mary base. We can't promise anyone will want to come close enough to make out with you, but we can promise that being alone never tasted this good.
Put It on Your Face!
The antibacterial properties of garlic make it the perfect at-home remedy for pesky acne. (Who knew?!) Simply slice a clove in half and blot the blemish with the cut side of the clove. Leave overnight and watch those zits disappear!