'Olive Garden' Food Critic Marilyn Hagerty Reviews Her Local Applebee's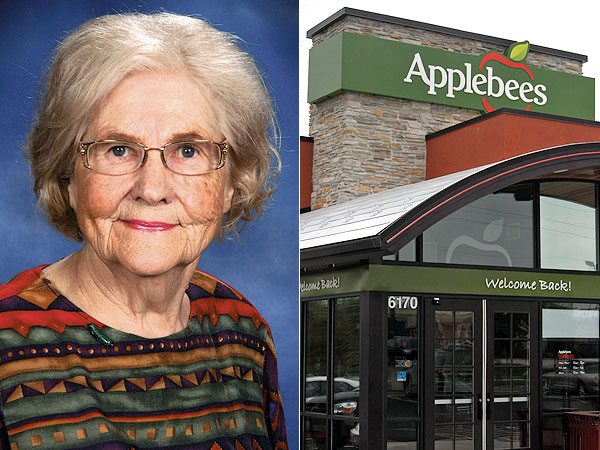 Grand Forks Herald/AP; Tom Gannam/AP
Marilyn Hagerty, the 88-year-old restaurant critic from Grand Forks, North Dakota, has turned her sights on Applebee's. Her verdict? She seemed satisfied, if not completely blown away.

Hagerty, who rose to fame in 2012 after her rave review of the town's new Olive Garden went viral, is known for her thoughtful, unpretentious assessments of fast-casual chains and independent local restaurants. After her Olive Garden piece, she went on to enjoy food-celeb perks like publishing a book with Anthony Bourdain's help and judging Top Chef.
Her latest review, "A Salad to Remember at Applebee's," isn't negative, but it isn't glowing either.
Hagerty starts off describing the chain's "signature" Chicken Oriental Salad, which is referenced in the piece's title. Both Hagerty and her dining companion ordered it, agreeing that the salad is "one of those things you remember," though she didn't go so far as to call it delicious. She did comment on the size and offer some subtle advice for the reader: "You can get a half size version for $8.59. The regular size is $9.99, but you don't need that."
We can only hope that in her next article, Hagerty will take on America's portion size problem.
Hagerty finished her meal at Applebee's, "a place where customers tend to linger and chat," not with the Blue Ribbon Brownies, which she "could do without." (Maybe because according to Applebee's, they clock in at 1600 calories each?) Instead she went for the "small, gooey" Dessert Shooters which have only about a quarter of the calories. "Just right," she wrote.
Each of her reviews ends with a "report card" summarizing her experience. "Seating usually is quick in booths or at tables with windows all around. Service is good. Menu is extensive and takes study if you are not a regular here. Rest rooms are good," she wrote.
We can only wonder if Applebee's will respond to Hagerty's assessment via Twitter, like they did to Jenny McCarthy and Donnie Wahlberg. In the meantime, we'll be waiting for Hagerty's next review—maybe she'd be a little more excited about The Cheesecake Factory?
—Morgan Gibson