First Look: Watch Chrissy Teigen Kick Butt in Bangkok on Anthony Bourdain's The Getaway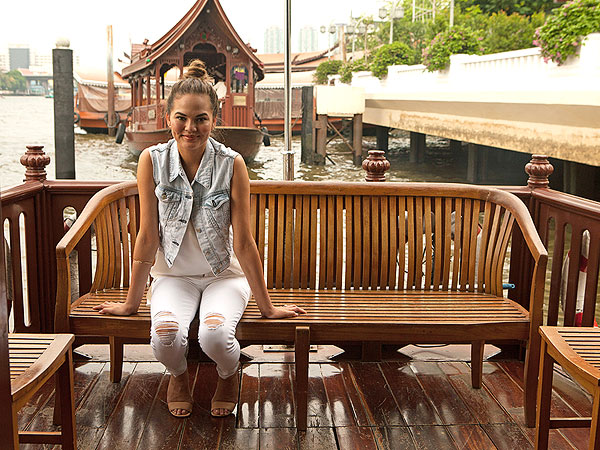 Courtesy Raymond Molinar/Esquire Network
We didn't think we could love Chrissy Teigen any more, but then she stepped into a boxing ring.

The swimsuit model, food blogger and wife of John Legend traveled to Bangkok as part of Anthony Bourdain's Esquire Network series The Getaway, which features celebrities as expert travel guides of exotic destinations.
Teigen takes viewers through Bangkok — where she celebrates Christmas with family every year (her mother is from Thailand) — with authentic Thai boxing and, of course, food.
On Teigen's episode, which premieres Oct. 29, we get to see the the travel-loving Teigen, 28, gamely throw some punches in the Muay Thai ring and learn how to high-kick. The trainer is "shocked" by her power.
"I've never been this tired," a worn-out Teigen says after her boxing lesson. "This has been amazing! I feel like I got bit by this bug. I want to do it."
Her Instagram followers got a little preview of the match when she posted a photo of her boxing bruise, with the caption "I learned Muay Thai kickboxing guys."
And we knew we could count on Teigen for at least a few Thai foodie finds on her trip.
At the Taling Chan floating market in Thonburi — which Teigen explores by boat on the episode — she indulges in grilled fish and green papaya salad, and later gives an oyster egg omelet a try at a night market with a food blogger.
She also posted a mouth-watering spoiler of her Bangkok eats on Instagram.
Other celebrities featured this season include David Koechner in Dublin, Adam Pally in Las Vegas, Jack McBrayer in Hawaii and Kyle MacLachlan in Napa Valley.
—Melody Chiu