Jon Favreau Wants to Open a Chef Movie Restaurant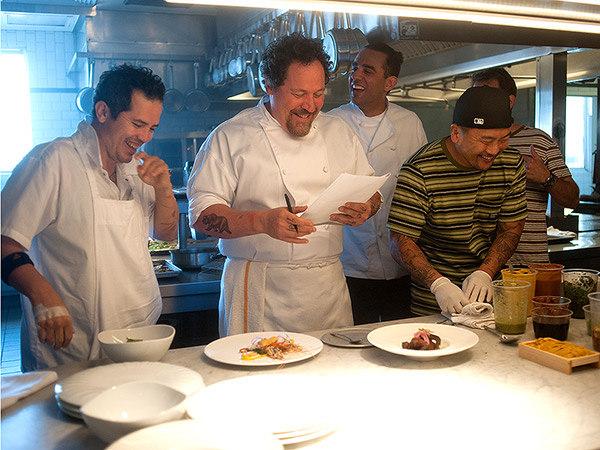 Merrick Morton
Has this happened to you? You see a mouth-watering meal on TV or in a movie and, overcome with hunger and insatiable cravings, you think: "I wish I could eat that right now."

Jon Favreau wants to make those dreams a reality for fans of his movie Chef.
Favreau, who wrote, directed and starred in the recent foodie film, hopes to open a Chef-based eatery in Los Angeles that will serve up some of the on-screen dishes, he told Yahoo Movies.
"I love sharing the food with people, so that they could see that food really is as good as it looks," he said. "It's not the wisest business venture, but for me it's a way to let the movie live on and connect with the fans."
The movie, available now on Blu-Ray and DVD, features Favreau as a chef who opens a Cuban food truck to revitalize his flailing career. (The other star of the film is the cuisine — think lots and lots of absurdly beautiful food porn.)
"Cuban culture is lost in time a little bit. From the cars, to the music, to everything," the Iron Man director tells PEOPLE. "You can tell from Swingers that I enjoy that nostalgia."
Naturally, any flick-inspired restaurant will need some serious cooking chops backing it. Los Angeles chef Roy Choi, who served as a consultant and producer for the movie, is also part of the culinary dream team.
"We want to turn this into a real restaurant," Choi said. "When people got out [of screenings], they wanted that thing to be real."
Perhaps Favreau may jump into the kitchen as well. In preparation for the movie, he attended culinary school to understand the trade better. "I learned how to cook a few things growing up, but now I'm totally into it," he says.
If you can't wait for a brick-and-mortar Chef restaurant to open, you can cure your cravings now by making Choi's signature Cubano sandwich from the film.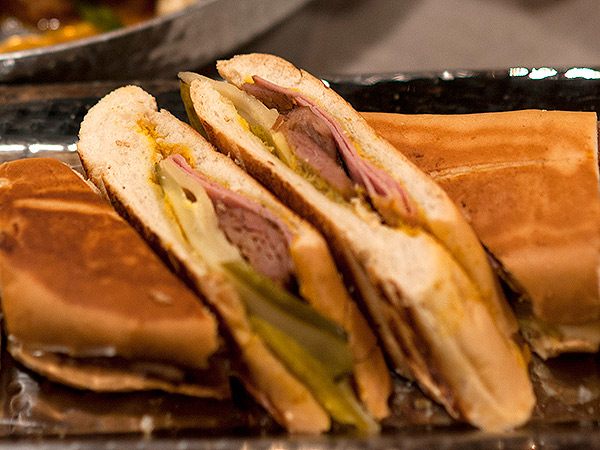 Open Road Films
Mojo Pork Cubanos
Makes 6 sandwiches
6 oz. thinly sliced boiled ham
Softened butter, for brushing
6 six-inch-long soft baguettes or hero rolls, split lengthwise
Yellow mustard, for brushing
¾ lb. thinly sliced Mojo-Marinated Pork Shoulder (recipe below), or store-bought roast pork
½ lb. thinly sliced Swiss cheese
3 half-sour dill pickles, thinly sliced lengthwise
1. Heat a large cast-iron griddle or panini press. Add the ham slices to the griddle and cook over moderate heat, turning once, until browned in spots, about 1 minute. Transfer ham to a plate.
2. Generously butter the cut sides of each baguette and toast on the griddle over moderate heat until lightly browned, 1 to 2 minutes. Transfer the baguettes to a work surface and generously brush the cut sides with mustard. Layer the ham, pork, Swiss cheese and pickles on the baguette and close the sandwiches.
3. Generously brush the outside of the sandwiches with butter and set them on the griddle or press; if using a griddle, top the sandwiches with a large baking sheet and weigh it down with heavy cans or a cast-iron skillet. Cook the sandwiches over moderate heat until they're browned and crisp on the outside and the cheese is melted, 3 minutes per side on a griddle or 3 minutes total in a press. Cut the Cubanos in half and serve hot.
Mojo-Marinated Pork Shoulder
Serves 6 to 8
¾ cup extra-virgin olive oil
1 cup lightly-packed cilantro, finely chopped
1 Tbsp. finely-grated orange zest
¾ cup fresh orange juice
½ cup fresh lime juice
¼ cup lightly packed mint leaves, finely chopped
8 garlic cloves, minced
1 tbsp. minced oregano
2 tsp. ground cumin
Kosher salt and pepper
3 ½ lbs. boneless pork shoulder, in one piece
1. In a bowl, whisk together all of the ingredients except salt, pepper and the pork. Whisk in 1 teaspoon each of salt and pepper. Transfer the marinade to a large resealable plastic bag and add the pork. Seal the bag and turn to coat; set in a baking dish and refrigerate overnight.
2. Preheat the oven to 425° and set a rack over a rimmed baking sheet. Transfer the pork to a work surface; discard the marinade. Fold the pork under itself, into thirds if necessary, and tie with string to form a neat roll. Season all over with salt and pepper and set it on the rack.
3. Roast the pork for 30 minutes, until lightly browned. Reduce the oven temperature to 375° and roast for 1 hour and 30 minutes longer, until an instant-read thermometer inserted in the center registers 160°; transfer to a carving board and let rest for 30 minutes. Discard the string before slicing across the grain.
—Patrick Gomez, @PatrickGomezLA