Landmarked Rainbow Room Reopens in New York City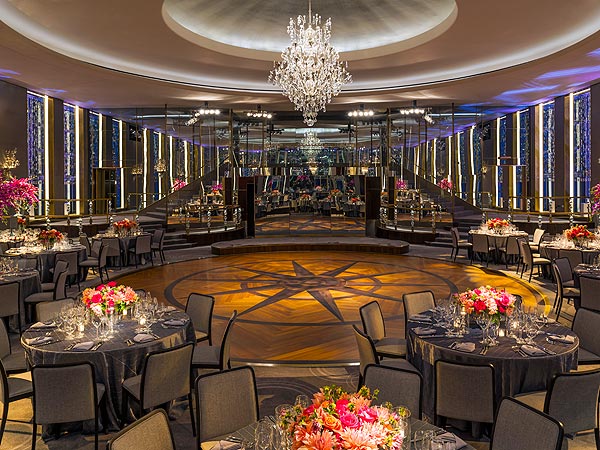 Bart Barlow
Dust off your dancing shoes: The 80-year-old Rainbow Room is back in business.
The iconic restaurant on the 65th floor of 30 Rockefeller Center was once a fixture on the New York City dining scene. During its decades-long run, it attracted celebrities from the world-famous composer Cole Porter all the way up to Britney Spears, who celebrated her 27th birthday there in 2008.
But behind the glitzy facade of crystal chandeliers and and Art-Deco trimmings, financial disputes were brewing. In January 2009, the landlords terminated the lease of the Cipriani company, who managed the restaurant, and the space closed about six months later.
On October 5, the Rainbow Room will reopen with a freshened-up look and a new chef, Jonathan Wright, formerly of The Setai in Miami and Raffles in Singapore. Wright told The New York Times that his menu would be "French-influenced farm-to-table." PEOPLE got a preview of the opening menu, which will feature dishes like lobster pot pie and short rib pot roast, as well as classics such as beef Wellington and (naturally!) Oysters Rockefeller. Cocktails like the 1915 Gin & Tonic along with Manhattans and Negronis hint at the restaurant's post-Prohibition legacy.
Since the restaurant's 65th floor main space was named a New York City landmark in 2012, the designers focused more on restoration than total renovation. Lighting fixtures like chandeliers and sconces have been restored, and fabric curtains have been replaced by crystal strands that will hang on newly enlarged windows to help bounce light around the room. "The idea is to burnish history, to polish and move it into the present day, with an eye on the future," architect Michael Gabellini told Bloomberg.
What hasn't changed: The staircase, domed ceiling and revolving dance floor (shown above), not to mention the enviable panoramic views of Manhattan, like this one of the Empire State Building: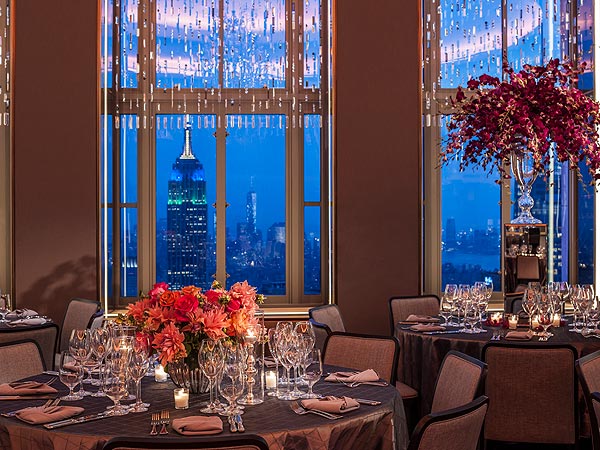 Bart Barlow
If you aren't lucky enough to be invited to a private event at the Rainbow Room, you'll have two choices for visiting the main space: Sunday afternoons, when a brunch buffet will be served starting October 5, and Monday evenings, when the restaurant will be open for dinner and dancing. (The Roots will be the first act to christen the new space on the evening of October 6.) A sleek new cocktail bar called SixtyFive will also be open Monday through Friday nights.
The Rainbow Room will accept reservations 60 days in advance, and along with the Sunday and Monday hours will likely be open for holidays like Valentine's Day. New-York-based romantics, take note and mark your calendars now for mid-December if you're hoping to play Cupid and score a booking.
—Lexi Dwyer