WATCH: Cameron Diaz and Other Stars Celebrate Dan Tana's 50th Anniversary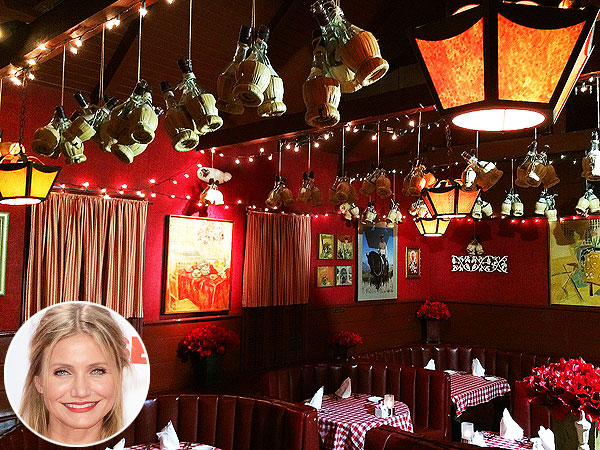 Courtesy of Dan Tana's; Inset: Adam Roe/Corbis
Happy 50th Anniversary, Dan Tana's!

For a half-century, the famed Italian eatery has been a home away from home for Hollywood's biggest stars: Dan Tana's was Johnny Carson's favorite L.A. restaurant, the spot where George Clooney hosted his 2006 Oscar party and a regular dining destination for Drew Barrymore, who has been coming since she was in diapers.
In honor of the major milestone, stars such as Cameron Diaz and Angie Dickinson paid tribute to the restaurant with a touching video, filmed by The Hollywood Reporter.
"I came to Dan Tana's when I was 16 years-old. It was the first restaurant I ever ate in in Los Angeles," Diaz said. "It's always got the same energy level." A regular, the actress can usually be seen dining on Dan Tana's Chicken Piccata, her favorite dish.
As for Entourage alum, Kevin Connelly, it's all about the chicken parm. "It's the only thing I eat [here]," he told PEOPLE at Dan Tana's 50th Anniversary party on Oct. 1. "I've had it like a hundred times. It's my cheat meal. I try to eat healthy for the most part, but whenever the wheels come off and I need something good, I come here for the chicken parmigiana."
Hungry, yet?  Get the recipe for Diaz's favorite dish below.
Dan Tana's Chicken Piccata by Chef Neno
4 (6-oz) skinless, boneless chicken breast halves
1 cup all-purpose flour
1 tbsp. butter
½ cup canola oil
1½ cup chicken broth
½ cup white wine
¼ cup fresh lemon juice
2 tsp. minced garlic
Freshly ground pepper and salt to taste
2 tbsp. capers (optional)
1. Place each breast half between 2 sheets of heavy-duty plastic wrap; pound to 1/4-inch thickness using a meat mallet. Place flour in a shallow dish, and dredge chicken in flour.
2. Heat oil in a large skillet over medium-high heat. Add chicken, and cook for 1 minute on each side or until browned. Drain oil from pan and add chicken broth, white wine, butter and lemon juice. (If desired, also add capers.) Cook at medium-high heat until the sauce has a slightly thickened, creamy consistency (approx. 2 minutes); chicken broth may be added if a lighter consistency is desired. Sprinkle with salt and pepper.
—Michelle Ward, additional reporting by Abby Stern