Raise a Goblet! There's a New Game of Thrones Beer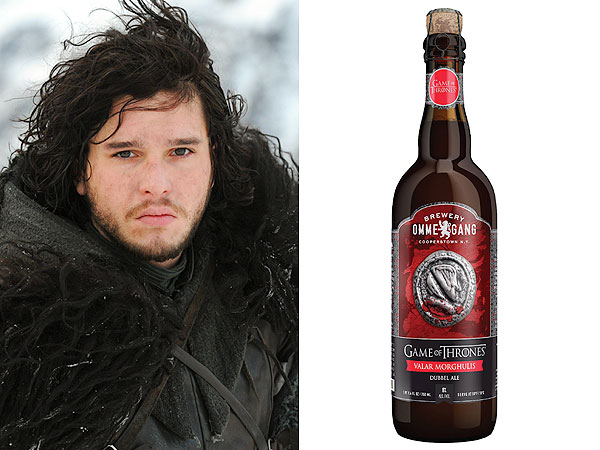 Oliver Upton/HBO; Courtesy Ommegang
Things have taken a dark turn for the latest Game of Thrones brew. The new "Valar Morghulis" (which translates to "all men must die" for those who don't speak High Valyrian) amber hit shelves this week.

Brewery Ommegang in Cooperstown, New York, has released its fourth beer inspired by the hit HBO television series, which is expected to return for season 5 in early April 2015. (Take note, Kerry Washington.)
The style, a Belgian dubbel ale, and name of the fourth beer were selected via a poll on the brewery's Facebook page last December.
The first two releases in the GoT collaboration between HBO and the brewery, Iron Throne Blond Ale (spring 2013) and Take the Black Stout (fall 2013) sold out in just a few weeks, as did the most recent release, Fire & Blood Red Ale (spring 2014), despite being brewed at almost twice the volume of the previous beers.
To try and meet the high demand, Ommegang increased Valar Morghulis production to 100 brews (100 brews is the equivalent of 666,000 bottles or 132,000 gallons). We're pretty sure that's about how much was consumed in King's Landing on Joffrey's wedding day.
The deep amber-brown beer has a rich malty sweet taste, with hints of caramel and sugar, and just a touch of bitterness, says the brewery's blog.
Our game plan: Get our hands on a six pack (or two) and binge-watch Game of Thrones until April. Because, as you know, winter is coming.
—Morgan Gibson