President Obama Dines at Bill and Giuliana Rancic's RPM Steak in Chicago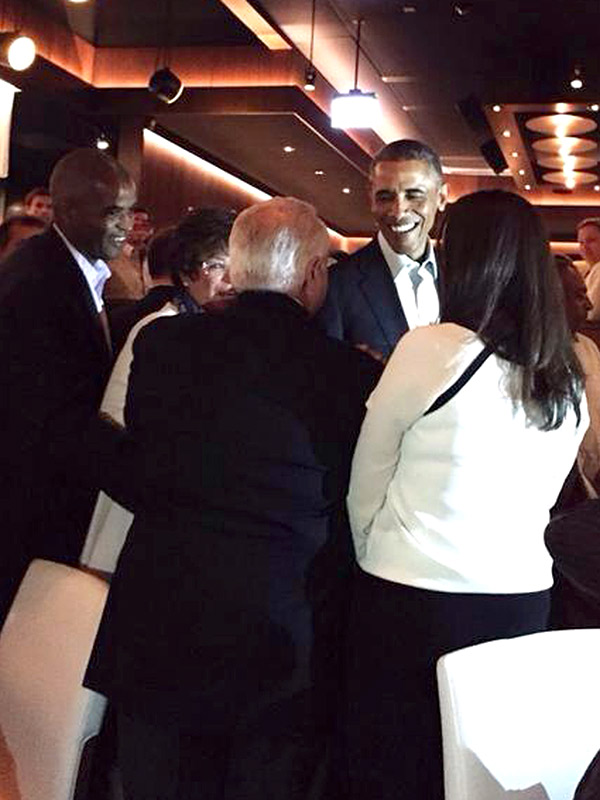 Noura Jafar
The Chicago restaurant RPM Steak got a very special — and very presidential — visit on Wednesday.

President Obama stopped in for a meal at the steakhouse, which is owned by Giuliana and Bill Rancic, with White House senior advisor Valerie Jarrett and longtime friend Marty Nesbitt.
Obama's group dined on classic steakhouse dishes, including the Grand Seafood Platter (oysters, shrimp, Alaskan king crab and lobster), a dry-aged bone-in Kansas City cut steak and the signature chocolate cake, a rep for the restaurant tells PEOPLE.
"Wow!!! President Obama is at our restaurant in Chicago @rpmsteakchi!!!! What an honor…I have tears in my eyes:) #bestfeelingever," the host captioned the photo of POTUS she posted to Instagram.
RPM Steak is the sister restaurant to the couple's RPM Italian, where Michelle Obama and her friends dined last year.
The President — who is in the Windy City for a closed-door fundraiser for Governor Pat Quinn and is giving a speech at Northwestern University on Thursday — even posed for photos with diners and spent time meeting with the staff.
"He came right through the front door and was great with everyone. People were so excited," said Giuliana. "We didn't know he was coming until the motorcade pulled up, which was super exciting."
You can get a taste of the presidential life, too! Make the sinful chocolate cake the Obama party enjoyed, prepared by executive chef Doug Psaltis.

Jeff Marini
RPM Steak's Chocolate Cake
Makes 20 servings
For the cake:
3 cups all-purpose flour
1 cup cocoa powder
4 cups sugar
2 tsp baking powder
4 tsp baking soda
2 cups coffee grounds
1 cup buttermilk
6 eggs
½ cup butter, unsalted, melted
½ cup canola oil
For the ganache:
¾ cup heavy cream
¾ cup whole milk
2 ½ cups dark chocolate
½ cup milk chocolate
¾ cup butter, unsalted, room temperature
1. Sift together flour, cocoa powder, sugar, baking powder and baking soda and place in mixer with paddle attachment. Whisk coffee, buttermilk and eggs together in a separate bowl. Add coffee mixture to dry ingredients and mix until dry.
2. Mix butter and oil together and add to mix.
3. Divide batter evenly into 3 baking pans and bake at 250 degrees for 10 minutes.
4. In a small pot, bring cream and milk to a boil. Over a double boiler, melt both chocolates together. Pour cream mixture over chocolates and stir to combine. Stir in butter and mix until completely melted and combined.
5. To assemble, unmold cakes and slice tops to level off. Working in layers, start with one cake, 3 cups of ganache, another cake, 3 more cups of ganache, top with remaining cake.
6. Slowly pour remaining lukewarm ganache over cake, spreading with a spatula to evenly distribute. Appearance should be smooth and shiny.
7. Let cool overnight. Cut into twenty equal pieces.
—Ana Calderone