Healthy Comfort Food? It Exists! Hungry Girl's Broccoli Cornbread Muffins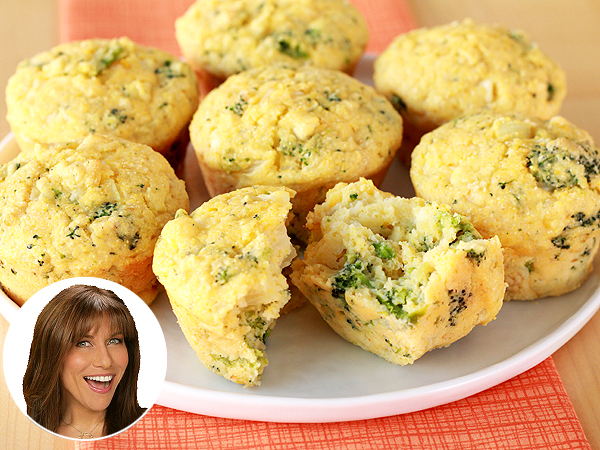 Courtesy Hungry Girl
Lisa Lillien is the author of the popular Hungry Girl website and email newsletter, featuring smart, funny advice on guilt-free eating. She is also the author of nine books, six of which debuted at number one on the New York Times Best Sellers list. Read her PEOPLE.com blog every Monday for slimmed-down celebrity recipes and more.

When you look at country star and American Idol winner Scotty McCreery, isn't "wholesome" one of the first words that springs to mind? The sweet-faced 20-year-old seems precisely like the kind of guy who would show up with a panful of his grandma's cornbread made with broccoli.
Now I love the idea of putting broccoli in cornbread — the fiber boost makes it more filling, and broccoli is more appetizing when it's surrounded by sweet corn goodness. But why load it up with butter and eggs? I worked some broccoli into my favorite cornbread base, and then I baked it in a muffin pan for portion-controlled comfort food!
Keep this recipe on hand for those upcoming holiday dinners.
'Til next time… Chew the right thing!
Hungry Girl's Broccoli Cornbread Muffins
Makes 12 servings
1 cup all-purpose flour
¾ cup yellow cornmeal
¼ cup granulated white sugar
1 tbsp. baking powder
¼ tsp. salt
¼ tsp. garlic powder
⅛ tsp. cayenne pepper
1 ½ cups canned cream-style corn
¾ cup fat-free liquid egg substitute
¾ cup 2% cottage cheese
1 10-oz. package frozen broccoli florets, thawed, drained, chopped, and thoroughly patted dry
¾ cup chopped onion
1. Preheat oven to 375 degrees Fahrenheit. Line a 12-cup muffin pan with foil baking cups, or spray with nonstick spray.
2. In a large bowl, combine flour, cornmeal, sugar, baking powder, salt, garlic powder and cayenne pepper. Mix well.
3. In a medium bowl, combine cream-style corn, egg substitute and cottage cheese. Mix well. Transfer mixture to the large bowl, and stir until uniform.
4. Fold in broccoli and onion. Evenly distribute batter among the cups — they will be FULL to the brims.
5. Bake until a toothpick inserted into the center of a muffin comes out clean, 20 – 25 minutes. Eat up!
1 muffin: 134 calories, 0.5g fat, 345mg sodium, 25.5g carbs, 2g fiber, 7.5g sugars, 5.5g protein