Sofia Vergara's Workout Motto: 'No Pain, No Cake!'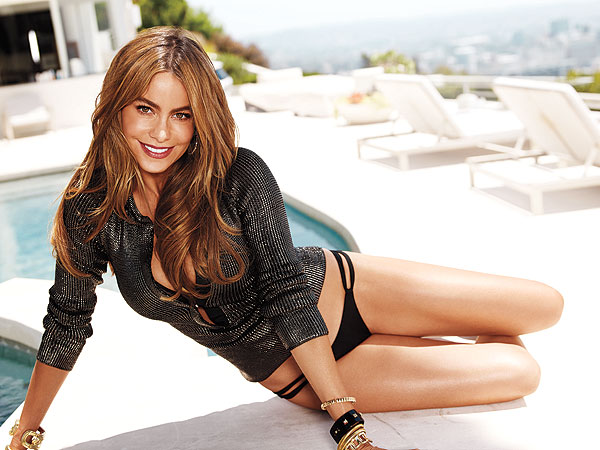 Courtesy Shape
Sofia Vergara loves sweets so much, she's considered trying hypnosis to cure her undying love for cake.

"I heard about someone in L.A. who got hypnotized so they wouldn't eat candy. I'm seriously looking into that because I'm obsessed," said the Modern Family actress in the November issue of Shape magazine, on newsstands Thursday.
Although the 42-year-old star "has always been very happy" with her shape, her attitude about exercise changed after a certain milestone birthday. "I hit 40 and I started seeing a softness everywhere on my body … I knew it was time to do something, so I did," she said.
Vergara was inspired by her Modern Family co-star Julie Bowen, who she says will go running even before she's expected on set early in the morning. As for Vergara, she says she'll find "any excuse" not to do it. "I'll say, 'Sunday? No, it's the Lord's day; I can't work out.'" Still, Bowen's attitude inspired her. "Being around Julie and seeing how motivated she is … I started to think more about it." (No word on whether her gym-loving boyfriend, Joe Manganiello, had a hand in that, too.)
Because her "bad knees" prevent her from jogging or doing moves like traditional squats, Vergara uses a Pilates-like machine called the Megaformer, which has adjustable springs and pulleys. "With this machine, I was able to figure out what worked for me. I don't love it at all, but I love how my body's changing," she said.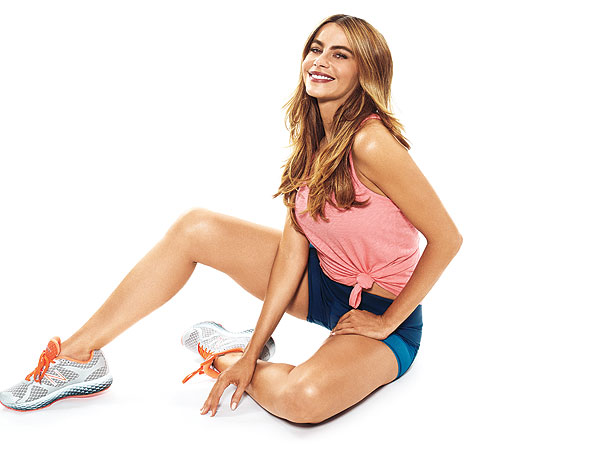 Courtesy Shape
Vergara's trainer Jennifer Yates adapted the star's favorite exercises into a floor workout for Shape. The moves include arm circles and leg sweeps, which use resistance bands to mimic the effects of the machine, along with wall sits and "elevator" lunges that are done with the sliding foot positioned on a Gliding Disc or towel.
Though she might have had issues with exercise motivation, Vergara said she had "already changed [her] mentality about food" when she moved to Los Angeles in 2005. "If you live here, you can't always order the high-fat dishes like pasta with truffles. You have a little sushi, and when you're out with your girlfriends you order a nice salad," she said.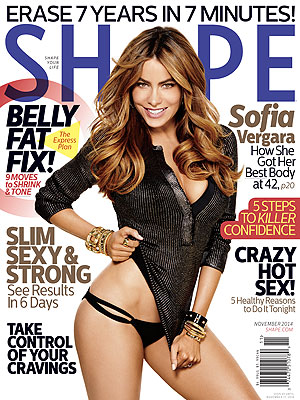 Courtesy Shape
Still, we have to admire a woman who said one of her biggest reasons for working up a sweat is the chance to freely partake in the things she loves. "When I do indulge, I exercise a bit harder the next day. My workout motto is really simple: No pain, no cake!"
—Lexi Dwyer