VIDEO: Food in Space? Watch Two Guys Send a Burger and Fries Into the Stratosphere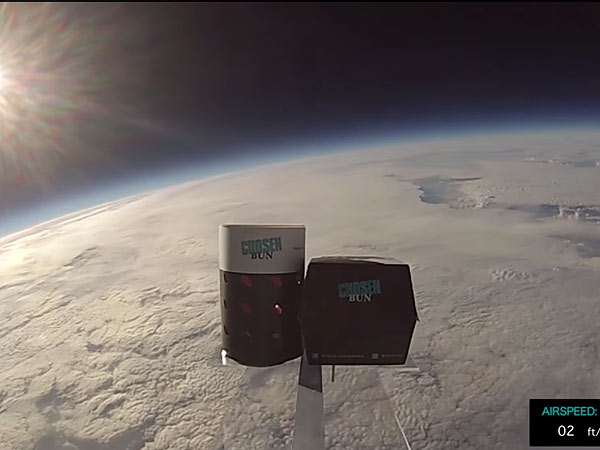 Courtesy YouTube
This burger-and-fries meal is out of this world — and we're not talking about how good it tastes.

The owners of the take-out burger joint Chosen Bun in London have successfully sent the first burger-and-fries meal into outer space. Well, at 112,000 feet, it's considered the stratosphere, which National Geographic considers the buffer between our atmosphere and outer space. But it's still pretty high, if you ask us.
Chosen Bun's video of how it all went down would be mesmerizing to watch (those above-the-clouds views!) even if food wasn't involved. "Bye-bye space burger, totally going where no Chosen Bun has gone before," quips co-owner Andy Shovel as he preps the food for its journey. To get it airborne, Shovel and his business partner, Pete Sharman, used a stunningly simple mode of transport: A helium balloon equipped with camera and GPS tracking that slowly expanded to about 26 feet across.
For the record, this isn't the first time a burger has been sent skyward: In 2012 a group of Harvard students pulled off a similar feat, though their patty, which had been coated with varnish, only made it about 98,000 feet and didn't come with fries.
According to The Telegraph, Shovel and Sharman did the stunt to show off Chosen Bun's allegedly tough packaging, which is designed to protect its takeout orders. And, of course, the other obvious reason: "We thought it would be a laugh," Shovel told the newspaper.
Spoiler alert: The balloon eventually pops, which wasn't exactly hard to predict. What did surprise us? The burger, which was found 32 miles from the launch site, was still totally intact and edible-looking. Not that anyone was game to taste it. "I'm not eating it, that's ice-cold. I'll die," jokes Sharman.
No word on how the fries fared, since they were apparently snatched up by a local dog who apparently didn't mind eating food served at a less-than-optimal temperature.
—Lexi Dwyer