Miranda Lambert: I Don't Like Vegetables Unless There's Ranch Dressing on Them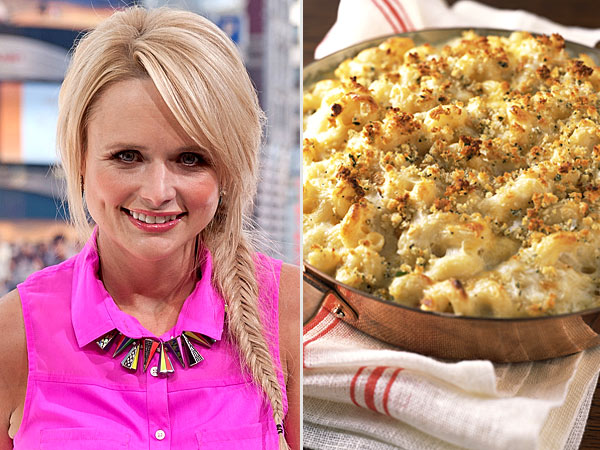 Getty
She might sing about "Smokin' and Drinkin'" on her latest album, but in her real life, country star Miranda Lambert has a pretty domestic description of herself: "The sides girl."

In the November issue of Food & Wine (on newsstands Friday), the Grammy-winning singer says that her husband, fellow country star Blake Shelton is a "grilling and smoking master," while she handles the accompanying dishes.
We're thinking her skills will come in handy when they celebrates Turkey Day on their farm in Tishomingo, Oklahoma. "Blake taught me how to bow-hunt when we first started dating. Our Thanksgiving tradition is to shoot our own wild turkey and fry it," she tells the magazine.
When you see this recap of other fun foodie tidbits from Lambert's life, you'll see why we wouldn't mind being adopted into the Lambert-Shelton clan:
Like Elvis, she enjoys her cucumbers fried. "I play at Joe's Bar in Chicago a lot and the owner opened up a barbecue place called Bub City. It has fried pickles, so I automatically love it."
When she opened her boutique, The Pink Pistol in Tishomingo, she opted to keep the 1940s soda fountain (the space was formerly a pharmacy) and customers can sip and browse at the same time. "I invented our signature drink: Two splashes each of cherry and vanilla syrup, soda water and a cherry on top. After hours, I put vodka in mine."
She claims to only really like vegetables if there is "ranch dressing or cheese on them." But she compensates by starting each day with freshly pressed juice, and even brings her own juicer on the road. "That way I feel like I've been healthy for the day, even if I make bad decisions later."
Looks like the country superstar not only knows her stuff about food, but she's mastered logic, too.
—Lexi Dwyer