Watch Second-Grade Kids Eat a Fancy, Seven-Course Tasting Menu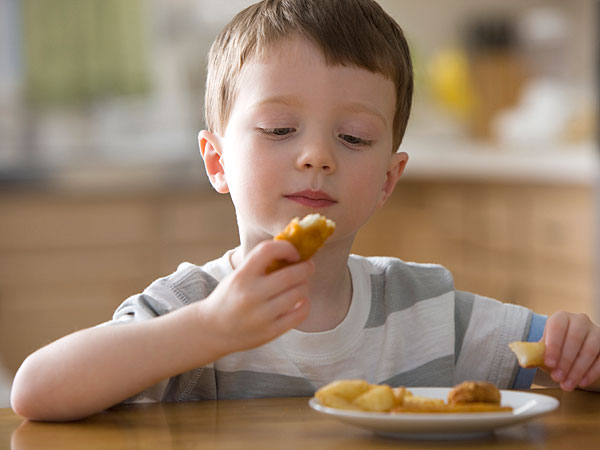 Getty
Just two months after a four-year-old gave a passionate review of The French Laundry, The New York Times has also jumped on the bringing-kids-to-fancy-restaurants bandwagon, sending six second graders to the acclaimed Daniel in Manhattan.

The kids, who came from P.S. 295 in Brooklyn, definitely weren't in the school cafeteria anymore. "It's just like when you travel, we're taking you on a little bit of an adventure here," chef Daniel Boulud says as the children sat down to begin their seven-course tasting menu, which costs $220 per person.
One thing can be said about second graders: They have opinions, and they aren't afraid to share them. On the squash ravioli with pork belly á la plancha, one yelled, "It tastes like soap! Why am I eating soap?" (Can you hear us smacking our foreheads over here?) And when Boulud later asked the kids what they thought about it, the whole group responded with a collective "Ehhhhh…"
The Japanese Thai Snapper ("just regular fish," as one taster said) turned out to be a crowd pleaser, garnering praise like "What I liked about the fish was the scales," and the more succinct "Whoaaaa."
And pretty much all the kids were sold on the Wagyu Beef Rib Eye. "It was cooked just right and I really liked the inside," said one boy, while another girl raved, "It's delicious. It's the best."
You can watch the rest of video above. Spoiler alert: The dessert course, which included madeleine cookies, chocolate truffles and pop-your-own balloons, was very well-received.
The chef shared some parting wisdom on kids and meals. "Children crave a food they can identify, and the seasoning has to be mild, in a way," says Boulud. Maybe that's why his final promise was met with deafening cheers from the second graders: "Next time, we'll do macaroni and cheese."
—Lexi Dwyer