This Farmer Is Growing Pumpkins Shaped Like Frankenstein's Head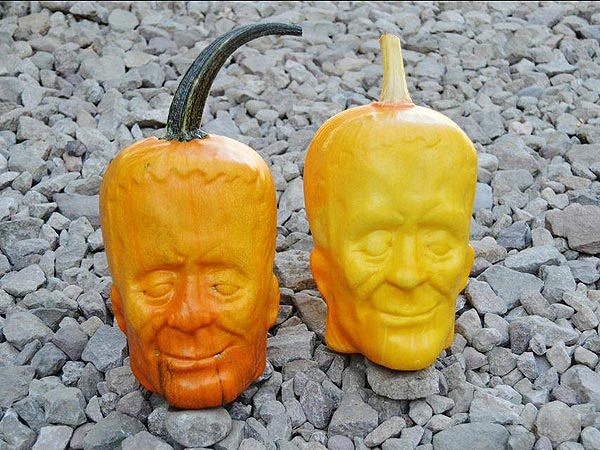 Courtesy Twitter via Cinagro Farms
You could spend time carving your pumpkin into a crazy shape. Or you could just order a "Pumpkinstein" from farmer Tony Dighera—assuming they don't sell out first.

Dighera, who runs Cinagro Farms ("organic" spelled backwards, get it?) in Fillmore, California, has become an overnight sensation thanks to his pumpkins that he grows in the shape of Frankenstein's head.
The farmer told the Los Angeles Daily News that that he first grew square-shaped watermelons (which he'd seen coming out of Japan), before getting inspired to create his monster mash-up, which cost him $500,000 and took about four years to develop.
Dighera uses a plastic mold (picture a double-sided Halloween mask) and places the growing gourd inside when it's still fairly small. The timing of the placement is crucial to his success. "If it's too small, and it moves too much, it snaps the stem," he said during an interview on KTLA.
The pumpkins, which are organic and retail for between $100 and $125, are available at stores local to the farm (such as Whole Foods) as well as on Cinagro's web site while supplies last. Dinghera has shipped them as far away as Dubai, Japan and Denmark.
When he was making the molds, the creepster's knowing grin gave him a little trouble: The first version was too scary, the second was too joyful-looking, but eventually he got it right. "He has a slight smile — it is a Mona Lisa look," Dighera told the News.
Like any Halloween pumpkin, Dighera added that this one goes best with a candle. "The eyes light up," he said.
—Lexi Dwyer