Oprah Checks Another Thing Off Her Bucket List: Truffle Hunting in Italy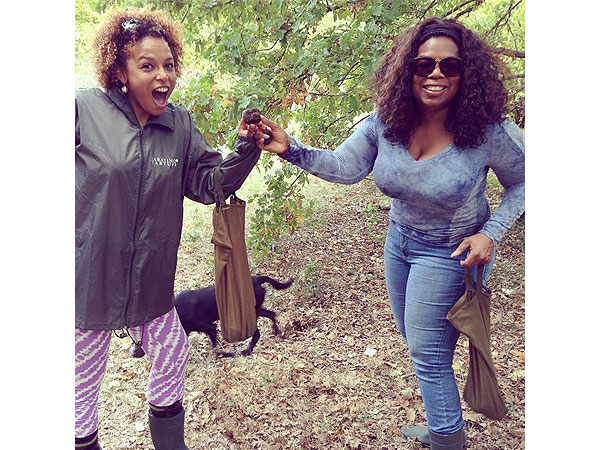 Courtesy Gayle King
When you're as crazy about truffles as Oprah Winfrey is, you'll go to the ends of the earth to seek them out. In her case, the earth was in Umbria, Italy.

On Wednesday, the talk-show vet posted photos on Instagram of her getting ready to forage through the Italian countryside with her BFF Gayle King, King's daughter Kirby Bumpus, other like-minded truffle connoisseurs and several truffle-scavenging dogs.
"Let the hunt begin! Truffle hunting in Umbria. #Bucketlist," she exclaimed in one post.
In another post, Winfrey explained that white truffles are "like gold to the hunters," and gave a shout out to one of the furry foragers, "This dog "Nick" is a star! #UmbriaBucketList"
King has also been documenting the truffle trek via Instagram, but she seems to be most excited about the post-hunt dishes. One of her photos of Winfrey is captioned, "@oprah scores first she already has the perfect pasta dish planned"
In August, Winfrey admitted her fungus obsession is over the top. "I'm a truffle freak," she told PEOPLE. "I walk around with truffle salt. That's on my rider for the hotels [she stays in] — truffle salt, truffle oil. I want to go to Alba [in Italy] and do the truffle hunt with the pigs."
Looks like Winfrey had to modify her dream, though, and settle for canines. "They used to use pigs," she explained to an Instagram commenter. "But pigs liked to eat the truffle. Dogs are easier to manage."
And she apparently doesn't like sharing!
—Nancy Mattia